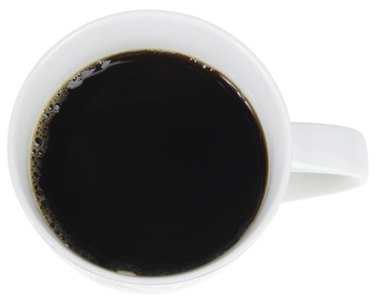 Mr. Coffee is a supplier of coffeemakers. The company creates coffeemakers for homes, with the option of 4-, 5-, 8-, 10- and 12-cup brewers. It also offers single-serving brewers and 45-cup brewers. The website for the brand doesn't specify the temperature at which its machines brew coffee and there are many factors which go into brewing coffee which will affect the end result.
Brewing Regulations
The standard brewing regulations of the Specialty Coffee Association of America (scaa.org) and the National Coffee Association (ncausa.org) require that coffeemakers brew coffee at a temperature between 197.6 degrees Fahrenheit and 204.8 degrees Fahrenheit. Most new coffeemakers will brew to these temperatures, but their performance wanes with extended and excessive use. Of the Mr. Coffee brand, the model JWX27, a 12-cup programmable coffeemaker, has routinely scored highest among tests done by coffee drinkers.
Too Hot
Some newer coffeemakers risk overperforming and brew coffee at a temperature higher than recommended. When this occurs, the coffee beans are over-extracted and the result is a brew that is bitter or burnt. Mr. Coffee doesn't make many high-performance coffeemakers, so they rarely brew coffee that becomes too hot too fast.
Too Cold
Just as with any other coffeemaker, as a Mr. Coffee coffeemaker is used repeatedly, the resulting brew will eventually be affected. Older machines may not brew the coffee as hot as they once did. When the water temperature is low, the coffee beans are under-extracted, giving it a weak taste and sour flavor.
Fixing Temperature
Mr. Coffee recommends that owners clean their coffee machines regularly to prevent them from brewing at a temperature that is too low. However, if the coffee is continually cold and the warming plate stays cool, it may be an indication that the coffee machine needs to be repaired or replaced.