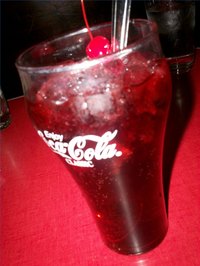 Cherry phosphates are as American as apple pie - and this diner staple can be made at home, too. Try making these drinks for a summer barbecue or a burger and fries dinner.
Things You'll Need
12 oz club soda
2 teaspoons cherry flavored syrup, such as Torani
2 teaspoons lemon juice, fresh or reconstituted
maraschino cherry, optional
Use a tall glass (like the Coca Cola glass pictured), with plenty of room for ice.
Pour club soda into glass. Stir in cherry flavored syrup and stir.
Add lemon juice and stir again to combine.
Add ice cubes and garnish with maraschino cherry, if desired.
Finish with a drinking straw, and enjoy!