Start to Finish: 10 minutes Servings: 4 Level of Difficulty: Beginner
In 2009, McDonald's took its McCafe coffee drink menu national and featured a refreshing cup of iced coffee. This frosty concoction is made with coffee brewed from 100-percent Arabica beans and includes cream and sugar syrup. It can also be flavored with French vanilla, sugar-free French vanilla, caramel or hazelnut. The key to making a perfect cup of McDonald's-style iced coffee is to start with an extra strong brew so that the coffee taste isn't diluted by the ice.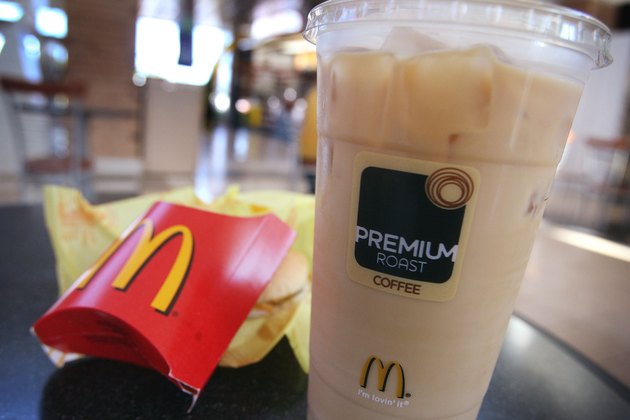 Ingredients
1 cup water
1 cup granulated white sugar
2 ½ cups strong brewed coffee
½ cup plain or flavored simple syrup
2/3 cup half-and-half
Ice
Directions
Pour the water and the sugar into a small saucepan.
Bring the ingredients to a simmer and stir well until the sugar is fully dissolved.
Simmer for 10 minutes until the mixture starts to thicken slightly.
Remove the pan from the heat and allow it to cool. Pour the syrup into a glass bottle topped with a pour spout.
Store the syrup in the refrigerator and use it within one month.
Brew a strong pot of coffee using double the coffee grounds.
Fill a pitcher with ice. Once the coffee is finished brewing, pour it immediately into the pitcher over the ice.
Add the syrup and the cream to the pitcher of coffee. Stir the ingredients well.
Fill four 8-ounce glasses or two 16-ounce glasses with ice. Then pour the iced coffee mixture into each glass and serve with a drinking straw.
Vanilla and Hazelnut Syrups
1 cup water
1 cup sugar
½ vanilla bean, split down the center
1 teaspoon vanilla extract
Following the directions for the simple syrup, add the vanilla bean along with the sugar and water. Once the mixture has simmered, remove the pan from the heat and take out the vanilla bean.
Stir in the vanilla extract and bottle and store it as would for the simple syrup.
To make sugar-free vanilla syrup, substitute 1 cup of sweetener such as sucralose for the sugar. Follow the rest of the directions for the vanilla syrup.
Add 1 teaspoon of hazelnut extract to the simple syrup after it has been removed from the heat and mix well.
Caramel Syrup
1 cup sugar
¾ cup water divided
1 teaspoon vanilla extract
Pinch of salt
In a small pot combine the sugar with ¼ cup of water, and stir until the sugar dissolves. Bring the mixture to a boil and cover the pot. Cook for 2 minutes.
Remove the cover and stir the mixture well until it starts to darken and turn a light amber color.
Remove the pan from the heat and carefully stir in the remainder of the water. Add the vanilla and salt and stir well.
Let the caramel syrup cool and then pour it into a bottle. Store it in the refrigerator for up to one month.