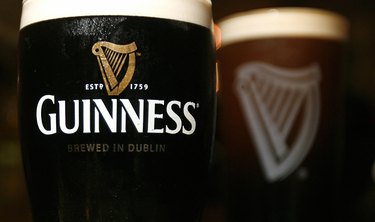 Arguably Ireland's most famous export, Guinness beer is a malty delight on tap at great pubs. When pub draft is hard to find, bottled Guinness is a beer shop staple, but its various styles may make you want to better understand Guinness Extra Stout vs. Stout beer.
Understanding Stout Beer
Modern craft variations on stout aside, the one trouble with Guinness is that it seems to taste best because of how it's poured. A "real" pint of Guinness takes as long as five minutes to properly pour for its famously creamy texture, which is what makes it different from that sold in shops. While beers like pale ales and many lagers are hop-forward, it's the malts and barley that define a stout's flavor.
As beer reviewer Kate Bernot explains, "Classic Guinness has always been dry, roasty, clean, not at all syrupy. Its flavors of light chocolate, espresso, and dry almond shell derive from the specialty malts used, not from additions of chocolate powder or coffee beans."
Guinness: What's in a Name?
Since 1759, Guinness has been brewed in Dublin but now is brewed in over 50 countries. "I'll have a Guinness" used to be a straight-up order, but now Guinness has a whole slate of beer styles, and only a few are stouts. The stout you may know best is Guinness Draught, or what most people consider "Guinness Stout," the variety consumed around the world since 1959. It's nitrogenated and not carbonated like most beers, and that's why it has the creamy head.
Some variations of Guinness include a couple porters, an IPA, two lagers, a golden ale, and the Guinness Africa Special, a malt and sorghum beer brewed in Nigeria. However, what you're really after are the four main stouts: the Guinness Draught, Guinness Extra Stout, Guinness Special Export Stout and Guinness Foreign Extra Stout.
There's also Guinness Smooth, another stout made since 2003, possibly as a response to when Guinness sales began dropping off in 2000. Guinness Smooth is considered a "beginner" stout — lighter, less bitter and not favored by diehard stout fans.
Guinness Draught Beer
Despite what people think, the classic stout you'll find on tap and in bottles worldwide is not the original Guinness Stout. It was born in 1959, celebrating the 200th anniversary of Arthur Guinness signing his 9,000-year lease for the brewery at St. James's Gate in Dublin. It boasts a dark, creamy head and is a balance of sweet meets bitter at 4.2 percent ABV (alcohol by volume).
Guinness Extra Stout Beer
In 1821, Arthur Guinness II conjured this recipe — sharp and crisp, still packing those Guinness flavors you love but without the same mouthfeel. That's partly where the "extra" stout comes from.
However, if you really want to understand the "extra stout" meaning, you need to go way back to colonial Britain, when Empire Brits in India and the Caribbean wanted their Guinness too. The beer maker explains that these "extra" stouts were "brewed with more hops to preserve the beer in the ships' holds during voyages of four-to-five weeks in tropical climes."
Guinness Foreign Extra Stout Beer
This beer began life as a "West India Porter," hopped-up for its cross-ocean journey. These days, this Guinness extra stout's ABV is 7.5 percent. Harder to find, this version is available throughout Africa, Asia and the Americas, and it's considered the closest tasting to the original recipe of Guinness Stout.
Guinness Special Export Stout Beer
This version has a big mouthfeel, complex flavors with toffee, butterscotch and blackcurrant notes and it's notable for having been created in 1944 by expat John Martin for the Belgian market. It's a whopping 8 percent ABV, but the strong body still delivers the creamy, rich taste people have come to love in Guinness. As the brewer says, it's a Irish stout with a continental edge.