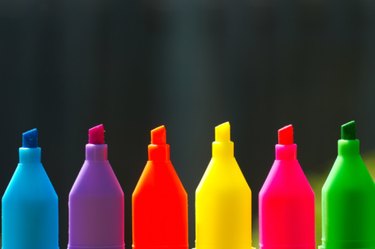 Finding the right markers to use with a black light can be fairly easy. There are many out there and some you wouldn't even think of getting. They are fairly inexpensive and easily found in stores. Using markers to glow with a black light will keep your children busy for hours and will get there imagination flowing.
Highlighted Markers
A type of marker that glows with a black light would be highlighted markers or pens. These markers are fairly common and can be purchased at most stores and craft stores. The best type of the highlighted markers are the felt-tip markers. The brighter the marker, the more visible it would be, such as a yellow marker.
Crayola Markers
Crayola has many different types of markers that are intended to be used with a black light. Some of the names are, Crayola Fluorescent markers, Crayola Color Surge markers, Crayola Glow Board markers, and Crayola Glow Dome markers. You can purchase these markers at either the Crayola store, The CrayolaStore.com, or at a teacher or educational supply store.
Quartet Glo-Write
These markers are just your plain fluorescent markers. They are cheap and sold at just about every store that sells markers and online.
Sakura Solid Marker
These markers are water proof on most surfaces. They should be used with adult supervision because the marker will not come off walls or just about anything else on which they are used. This marker is expensive. They are very hard to find, but they can be found at ArtPrimo.com.