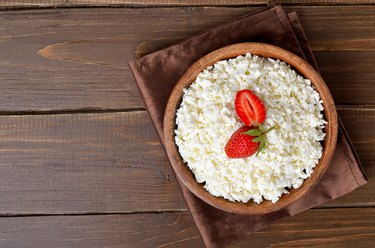 If you've ever taken a whiff of a carton of milk and passed out because of its less-than-appetizing odor, the milk has soured, or curdled. Poured into the sink, those lumps of sour milk are actually curds, something Miss Muffet would have enjoyed when mixed with her whey.
When milk is mixed with natural environmental microorganisms and bacteria, especially in warm temperatures, it becomes the sour milk favored in Balkan countries. Curd is prominent in many cultures and in many configurations, such as in the creamy sauce of Kashmiri dum aloo offered in Asian Indian restaurants to the tangy lemon curd in a British Pavlova.
A cheese curd forms when milk sours, and proteins and liquids separate. This is the first step in the cheese-making process. A sweet curd, popular in the British culture and an ingredient in baking recipes, is formed when sugar, water, eggs, butter, cream from milk, a flavored concentrate, natural flavors, and pectin are combined to form a smooth, rich spread.
Yogurt and kefir are byproducts of curd as well, with different molecules added to the fermented milk in their creation. Lactic acid transforms curds into yogurt, while kefir, the oldest type of fermented milk which originated in the Russian area called the Northern Caucasus, has the most diverse microflora of lactic acid microorganisms beneficial to humans.
The Importance of Milk Curd in Indian Food
When beneficial bacteria is added to milk, the fermenting process turns it into curd. Lactose, which is present in milk, is converted into lactic acid, and the curd becomes a probiotic. Probiotics help digestion.
Curd is a good source of calcium, nutritional experts recommend that you avoid heating the curd as it kills off the good bacteria. Also, avoid eating curd-based food if you have congestion or at night, since it increases mucus. Fresh curd, sour curd or the thicker curd known as hung curd, in which all the whey has been drained completely, are popular in Indian dishes.
Sweet curds aren't curdled but instead smooth and creamy, with an acidic, tart aftertaste. Acidity drives the formation and taste of a sweet curd, so it's best to start your homemade curd with a citrus. Pureeing any fruit with the addition of an acid results in a refreshing curd.
The sweeter the fruit, the more lemon juice you'll need if you're making your own. Of course, grocery store shelves offering jars of fruit-based curd eliminate the time-consuming effort of making your own curd, but it's fun and rewarding to make your own.