Confirmation is a time in some Christian religions when a person is considered to be bound to his faith. While several religions include a confirmation, the Catholic Church is most known for the process of confirmation. Older children or young teens go through confirmation classes, during which they learn about their religion. When they are thought to be prepared, they have a confirmation ceremony. Many people celebrate with a party or a reception afterward. Make crafts that will help the person more fully understand this religious commitment, or make them as gifts.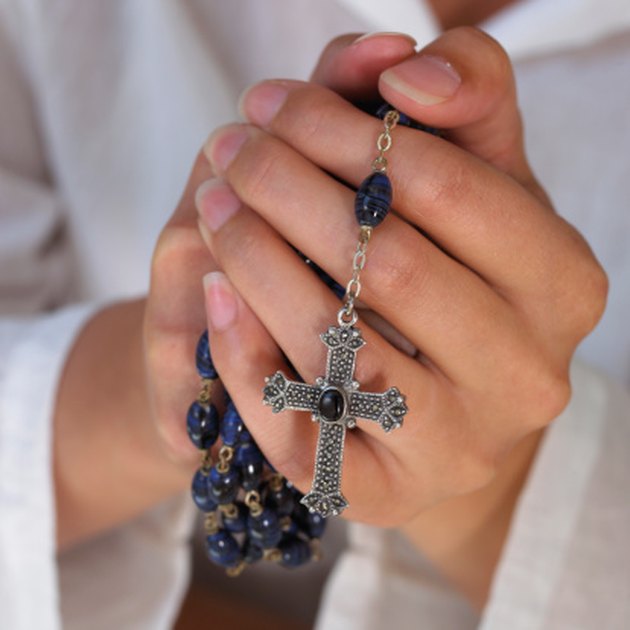 Candle Holders
Candles are used in several Christian faiths, including Catholicism. Consider making candle holders as a confirmation craft. You could do this during confirmation classes when you are teaching about the importance of lighting candles for people for whom you are praying. To make one, remove the label from a baby food jar, and then wash and dry the jar thoroughly. Use craft glue to glue squares of tissue paper to the glass. Allow the tissue paper squares to overlap so that when you light the candle, you can see the different colors.
Rosaries
Rosaries are strings of beads that are used for praying in the Catholic Church. Make your own rosary using pipe cleaners and craft beads. Slide 10 craft beads onto the pipe cleaner to create a simple decade rosary. Keep them toward the center of the pipe cleaner, spacing them a bit. Bend the part of the pipe cleaner with the beads into a circle shape and twist it shut. String one more bead on the pipe cleaner where you twisted it shut, at the junction where the circle starts. Cut off one of the ends, then twist it around the center of the straight end. Straighten the pipe cleaner you just twisted around the other one to create a cross shape.
Canvas
Let those studying for confirmation create paintings for their homes. Give each person a canvas that has already been stretched over a frame (you can find these at most craft stores). Set up a table with acrylic paints and brushes and ask each person to paint something that reminds him of his faith or something he believes is important about his faith. For example, they might paint crosses, doves or even scriptures.
Crown of Thorns
Create a crown of thorns like Jesus is said to have worn when he was on the cross. Twist grapevine into a wreath shape small enough to sit on a person's head. Secure the crown with a piece of florist's wire. Hot-glue toothpicks on the wreath to create the thorns that covered the crown. This craft can be placed on a shelf at home as a reminder of the sacrifices Jesus made.