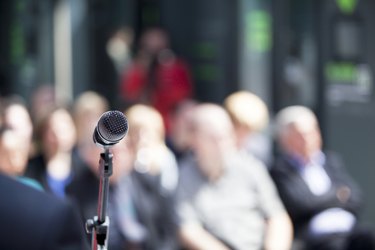 A reunion speech offers a chance to elicit a lot of laughs and smiles, delving back through the decades to the school years classmates shared. Use local history and school history in the speech to reminisce with the classmates, who will enjoy remembering where they came from, as you welcome and thank participants and special guests for coming to the event.
The Class at That Time in History
When these classmates graduated from high school or college years ago, they wore different clothes, styled their hair differently and might have had funny nicknames. Talk about what was happening at that time in history, such as current events during the graduation year, or local government buildings, stores and shops that have since been demolished or changed. Mention favorite hangout spots or points of particular interest that classmates may have forgotten about.
The Class at School
Before the speech, find the yearbooks from those four years of high school and write a speech based on school life. Take the classmates back in time and mention the politics, friendships and society that occurred at school. Quote the funniest or sweetest senior quotes and get comments from the audience on whether the quotes still apply. If the seniors were assigned superlatives in the yearbook (cutest couple, funniest person, kindest person), bring up some of these during the speech and call the people by name.
The Class Then to Now
Talk about the changes and wisdom that the classmates have experienced through the years; whatever mistakes or catastrophes happened, they made each individual who they are today. Read aloud excerpts from the old school newspapers (if possible) and remind the audience how young they were then, and what has since happened in the world to change how they view things, as well as ways in which the local area and the world have changed.
The Class Interactive
Before the reunion, distribute a questionnaire through mail or email to all of the classmates of that year. Include questions such as: number of children or grandchildren, current hobbies, marital status, current job, residence and number of countries visited over the years. During the opening speech, share with the class who has been married the longest, who has the most grandchildren, who has traveled the farthest, and other interesting or unusual facts -- the more unusual or notable, the better.