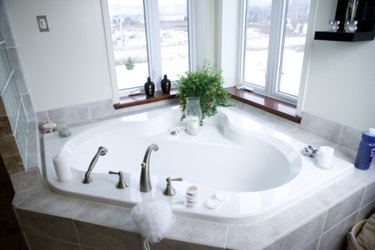 The post-war 1950s was a time of celebration in the U.S. Manufacturers turned their attention from defense back to the domestic, and the home was its main target. At the beginning of the 1950s, the bathroom was still considered a basic utility room, but as the decade progressed, it got bigger, bolder and more luxurious. At its center was the bathtub.
Context
The traditional 1950s bathroom was small by today's standards. According to StarCraft Custom Builders, "The rooms were just large enough to hold a toilet, sink and tub, typically 5 inches by 7 inches or 5 inches by 9 inches in upscale houses." At the decade's beginning, bathrooms were necessary but not considered "rooms," per se; by the mid-1950s, however, they became a sign of luxury exhibited by color and innovation and a sharp shift in color advertising.
Colors
Within the first few years of the 1950s, manufacturers introduced bathroom materials and fixtures in a wide array of colors to stimulate new purchases. Bathtubs were pivotal in this campaign. The old, white bathtub could suddenly be replaced with one in bold colors, such as turquoise, flamingo pink and cerulean blue, or in one of their lighter counterparts, such as aqua, lavender and – the signature color of the 1950s bathroom – pink.
Materials
Bathtubs in older homes in the 1950s usually had an enameled iron bathtub in white. Bathrooms undergoing a post-war renovation, however, usually featured a ceramic (or its porcelain byproduct) bathtub in one of the wide array of colors newly available. In fact, aside from their color, fixtures and (sometimes) plumbing, the materials of the typical 1950s bathtub are the same as that of today.
Design
Prior to the late 1950s, when today's tub/shower combination became a staple, the bathtub was the center of bathing. As the 1950s progressed, many households installed a shower-head fixture to the bath faucet, but it wasn't until the late 1950s when the traditional shower within a tub became a staple. Another signature bathtub style of the 1950s is the corner bathtub. As older, small bathrooms were redesigned with colored fixtures, corner tubs became common, revealing space and adding a hint of luxury.
Modern Retro Application
Whether you're "flipping" a circa-1950s house with a vintage bathroom or want to recreate the look and feel of one, the good news is that not much has changed in bathtub materials. Color and fixtures are the keys. Do you want to go fully retro with a pink tub and separate shower, or do you want to tear out the signature 1950s bathtub in your home and toss it to the curb? Either way, there are modern fixes. Innovations in paint since the 1950s can answer either question.