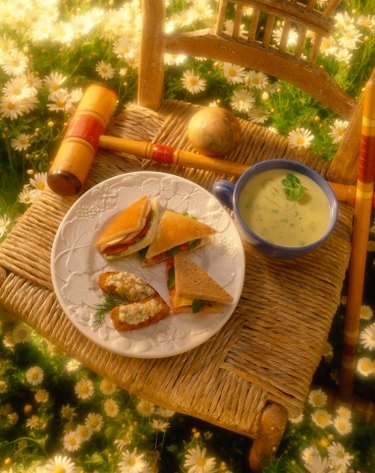 Potato soup offers a surprising number of health benefits. Potatoes are a complex carbohydrate that give you long-lasting energy, are filled with important nutrients like vitamin C, folate, and fiber, and help prevent cardiovascular disease. Pack a hot thermos of potato soup, half a sandwich, and you've got a healthy lunch option that will keep you energized all day. The key is to find the right sandwich to complement and balance the soup.
Baked Ham and Cheese
Since potatoes are relatives low in protein, a baked ham and cheese sandwich can add a protein boost to your meal. Try it on rye bread if you want some additional fiber, and choose a good melting cheese such as fontina or muenster. Combine melted butter, chopped onions, and mustard in a bowl, and lightly coat each slice of bread with the mixture. Then pile on the cheese and ham, wrap in tin foil, and bake in the oven at 350 degrees for about 15 minutes.
Low-Carb Sandwich
To balance out the high starch content in the potato soup, try this low-carb sandwich. Toast a whole-wheat bagel thin, and then spread low-fat cream cheese -- try chive or onion flavored -- on both sides. Add sprouts, sliced cucumber, tomato, avocado and your preference of deli meat, but make sure it's low-sodium.
Southwest Veggie Wrap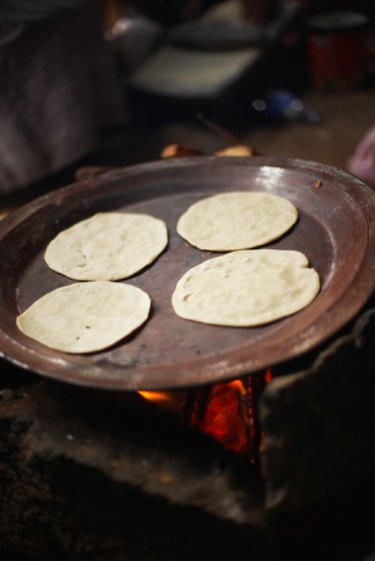 Vegetarians will love this low-carb, protein-packed wrap. Start with a whole wheat tortilla, and spread guacamole and salsa across the entire surface of the tortilla. Add black beans or low-fat refried beans, shredded lettuce, Mexican cheese, low-fat sour cream and some spicy taco seasoning -- if you can handle the heat. If you want to add a little Mexican flare to your potato soup as well, add some chili powder, cilantro, lime juice and tortilla strips.
The Reuben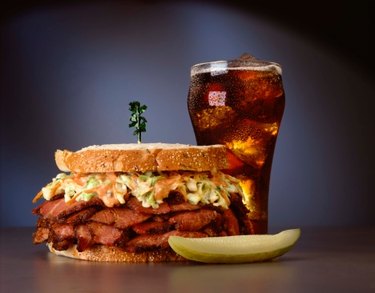 If you are in need of some comfort food, you can't go wrong with this meat and potatoes combination. Spread thousand island dressing on two slices of rye bread, and put Swiss cheese, sauerkraut and corned beef between the slices. Melt a teaspoon of butter or margarine in a heated skillet. Grill the sandwich until both sides are golden and the cheese is melted. For a healthier option use turkey instead of corned beef, and a fat-free cooking spray instead of butter.