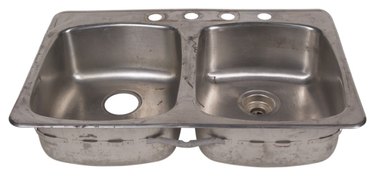 Two common metal alloys used for many purposes are brushed nickel and stainless steel. These two metals are used for household utensils, fixtures and industrial equipment. Brushed nickel is generally chosen primarily for its look.
Brushed Nickel
Brushed nickel is often chosen for household fixtures because of its shiny look. It is a metal that stays looking new for years if cleaned properly. Brushed nickel is used for bathroom and kitchen fixtures as well as for many types of industrial equipment. This metal alloy is made of either copper or zinc and is shaped into appropriate designs, depending on the use. It is then scratched with a wire brush to create a matte finish. Brushed nickel will not tarnish or rust.
Caring for Brushed Nickel
Caring for brushed nickel fixtures requires less work than fixtures made of stainless steel. The best way to care for items made of brushed nickel is to avoid store brand cleansers, which often cause more harm than good. Instead, use a mixture made of equal amounts of white distilled vinegar and water. Place these two ingredients in a spray bottle, spray on fixtures and let sit for about 1 minute. Wipe the fixtures with a clean, warm cloth and dry with a dry cloth.
Stainless Steel
Stainless steel is another common metal alloy that is used for kitchen and bathroom fixtures. It is made of 10.5 percent or more chromium and more than 50 percent iron. Stainless steel offers a bright finish that is relatively easy to maintain and clean. It also resists corrosion and tarnishing. It is often used for creating kitchen utensils because it does not contain pores, which often collect bacteria and dirt.
Caring for Stainless Steel
Stainless steel has a shiny surface and therefore smudges. Fingerprints are also more prominent on items made of this metal. To clean stainless steel, use warm water and a mild soap. Rinse off the soap with water. If the item is extremely dirty, use scratch-resistant creams, but avoid using steel wool pads to scrub because they can damage the finish.