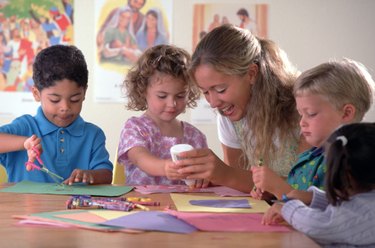 Crafts spark a child's imagination and allows them to interact with a Bible story. The story of Lazarus being raised from the dead teaches about God's faithfulness and love. Read the story found in John 11:1-43. Remind the children that even though it looked like Jesus was slow in responding to Lazarus being sick, Jesus had a greater plan in progress. With a few basic supplies, kids can create fun craft projects so they can in turn share the story of Lazarus' rising from the dead with family members.
Lazarus Wrapped Puppet
From a template, print on white cardstock one Lazarus and Jesus paper doll for each child. Depending on time constraints, precut the puppets or if there is enough time have the children cut them out. Cut enough 1/2-inch strips of white cloth for each child to receive one or two strips. Have the children wrap the Lazarus puppet with the strips of white cloth while explaining the purpose of the burial clothes. As the story is told, have the children act out each portion of the story with their paper dolls. When you reach the part of the story when Jesus calls Lazarus out of the tomb, have the children unwrap their Lazarus doll.
Shoe Box Tomb
Paint a shoe box brown. Place the box upside down and cut a small doorway into one side of the box thus creating the tomb entrance. Crumple a piece of brown construction paper forming the rock. If the rock needs to be larger crumple another piece around the first and secure with tape. A real rock could also be used to cover the tomb entrance. Use the Lazarus wrapped puppet and Jesus puppet to act out the story. When Lazarus dies, place the wrapped paper doll into the box tomb. As Jesus calls Lazarus from the tomb, bring Lazarus out and slowly unwrap him.
Lazarus in the Tomb Puppet
Cut a paper plate in half. Color both halves brown. Place the two halves together and staple along the rounded edge. Leave a 2-inch opening at the top of the rounded edge for the opening of the tomb. Do not staple the flat side of the plates. The puppet will slide up into the tomb through this opening. Draw or print a Lazarus paper doll and glue it to a wooden craft stick. When Jesus calls Lazarus from the grave, move the Lazarus puppet up through the slit in the top of the tomb.
Lazarus Cookies
Bake gingerbread cookies ahead of time. Cut a fruit roll up into strips or use a Fruit by the Foot candy for the burial clothes. As the story is told have the children wrap their Lazarus gingerbread cookie. When they get to the part where Jesus calls Lazarus out of the tomb, have the children unwrap Lazarus. Once the story is over, the children can enjoy a fun snack.