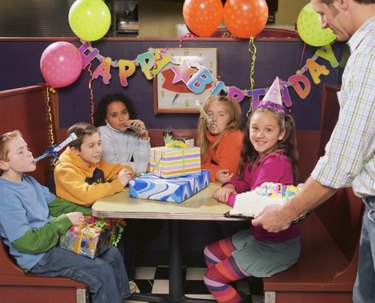 As your tween begins to outgrow the simple jelly and ice-cream parties she once enjoyed as a child, planning a birthday party she will love can become increasingly difficult. Not quite children, but not yet teenagers, many 12-year-olds crave a party that offers them a little more independence. However, with a little careful planning there are many options available that offer the right amount of supervision and freedom to keep both mom and child happy.
Mall Party
For 12-year-old girls who have begun to take an interest in fashion, the mall is the ultimate birthday destination. Invite along a few of her friends for a girly day out trying on clothes and accessories. If the budget allows, create favor bags with a gift certificate for a small amount that each of the girls can use purchase a memento of the day. Set challenges for each of the girls to recreate different styles of outfits, such as "prom princess" or "rock chick."
Garden Campout
Finding the perfect party venue does not need to involve spending a small fortune on a privately hired dedicated venue. Throw a slumber party with a twist and arrange a back garden campout that either boys or girls will enjoy. A campout will allow preteens the feeling of independence, while parents can rest assured that the children are close by. Party activities may include cooking on an open fire, card games and campfire stories.
Bowling Alley
A bowling alley party will offer plenty of activity and entertainment to keep preteens occupied for several hours. Many bowling alleys are well equipped at dealing with parties of children with most offering a variety of party packages. Hire out a portion of the on-site restaurant where your child and guests can dine after several games of bowling. Take along a few small prizes for the winners (and losers) to liven up the game.
Amusement Park
Many 12-year-olds are bursting with excess energy, and an amusement park is just the place to burn it off. As no special booking arrangements are required prior to your visit, there is minimum stress involved, other than where to eat for lunch. Amusement parks get particularly full during peak seasons such as the summer vacation, so make sure you arrive when the gates open to make the most out of the day.