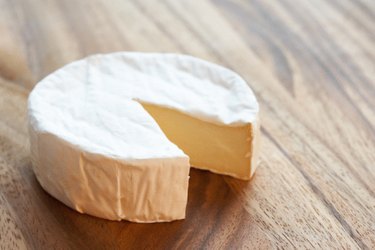 Brie cheese, a soft unpasteurized cheese, makes an easy appetizer for a dinner or cocktail party. Brie goes well with a number of flavors, both savory and sweet. Choose a type of cracker based on whether the cheese will be eaten on its own or with other flavorings, such as a savory sauce or sweet chutney. Any cracker can be eaten with brie cheese, because of brie's mild and creamy flavor. If you are arranging a cheese platter, pick a neutral cracker that will not overwhelm the cheese, and serve an array of crackers. Serve brie cheese warm or room temperature.
White Crackers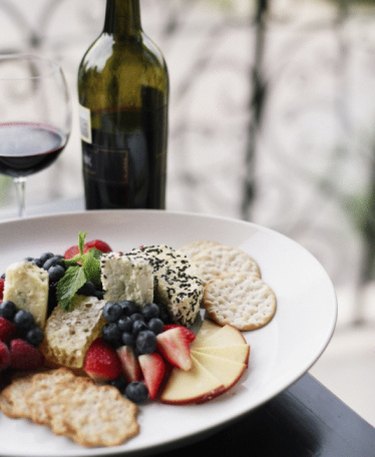 Plain white crackers go well with brie cheese, especially if you are eating baked brie with a sweet accompanying ingredient. Many recipes call for the brie to be served with fruit chutney, sweet jam or baked with maple syrup and nuts. If you are making a creative snack with a number of toppings, choose a larger cracker over a bite-size cracker to avoid making a mess.
Herb Crackers
Serve brie cheese with homemade herb crackers. Chives, basil, rosemary and oregano all complement the creamy texture and flavor of brie cheese. Avoid artificially flavored herbed crackers, as the flavorings will cover up the taste of the cheese. Opt for a homemade version made with dry yeast, flour, baking soda, butter, salt, chives and rosemary.
Melba
Melba crackers have a crunchy texture and neutral flavor, making it an appropriate cracker for brie. The small toast-like crackers are large enough to accommodate toppings and the brie cheese and are suitable for spreading baked cheese. You can find regular and multigrain melba crackers at your grocery store or cheese shop.
Sesame Crackers
The nuttiness of sesame crackers will complement brie cheese. Serve brie with sesame crackers for a slightly savory snack. The nutty flavor also pairs well with brie cheese topped with a fruit spread or compote. You can make your own sesame crackers from wonton wrappers brushed with egg yolks and sprinkled with black sesame seeds.
Multigrain
Serve brie cheese over multigrain crackers. You can find a wide variety of multigrain crackers at the supermarket. Avoid overly salted or oily crackers, which will overwhelm the texture and flavor of the brie cheese. Multigrain crackers come in a variety of shapes, such as circles, squares, rectangles and triangles. If eating brie with a topping such as pears and nuts, choose a larger cracker.