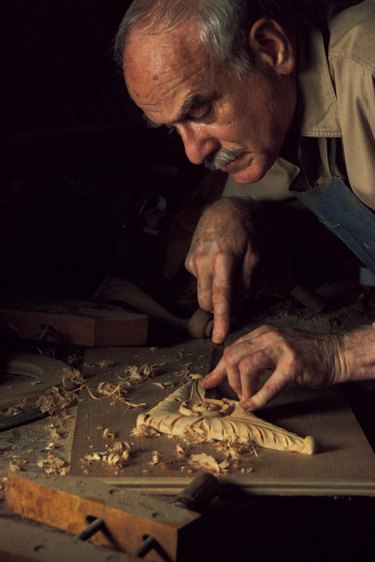 Deep satisfaction comes from making something yourself, and seniors in particular benefit from the tactile engagement quick results of crafting. From measuring and sawing a woodworking design to sitting and painting a factory-made kit, seniors ranging from recent retirees to long-term care residents enjoy making unique crafts in the company of others.
Easy Woodworking for Retired Seniors
For retired seniors who live independently, woodworking is an accessible hobby that can be frugal and enjoyable. With a multitude of free woodworking patterns online, a senior with a lathe, a band saw and sandpaper can make a variety of projects of varying degrees of difficulty. The process of collecting materials, analyzing a pattern, measuring pieces and following instructions will yield satisfaction in problem-solving, critical thinking and creativity. From wooden block puzzles to bowls or cutting boards, the resulting items make beautiful gifts or craft fair inventory.
Easy Woodworking for Seniors in Long-Term Care
Elderly residents of long-term care facilities often enjoy craft activities, but require certain adjustments to meet special needs. Impaired vision, difficulty standing and loss of strength and balance make woodworking crafts done at a table ideal. From a seated position, residents can enjoy sanding pre-cut wooden pieces and assisting in assembling, painting or varnishing projects. Woodburning may also be an easy woodworking project for seniors, depending on the ability of your particular group and the number of volunteers you have.
Easy Woodworking for Seniors with Dementia
Though long-term care residents with dementia may have short-term memory impairment, wooden craft kits are a good way to provide sensory stimulation and creative outlet without requiring a high degree of skill or even memory. From picture frame kits to wind chimes, bird feeders to Christmas ornaments, these wooden crafts can be painted and assembled in one or two sessions with the help of volunteers or even grandchildren who participate in the fun.
Easy Woodworking with Antique Materials
Whether seniors enjoy woodworking from a work table in a garage or attend craft activities at a long-term care facility, many elderly crafters will enjoy using reclaimed wood as a way of honoring the past and demonstrating thrift. Reclaimed barn wood can be used in any woodworking project that requires lumber.
Lucid nursing home veterans might enjoy sanding and refinishing an antique chair, table or stool as an ongoing project. Dementia victims can use antique wooden clothespins or spools to make ornaments or picture frames.