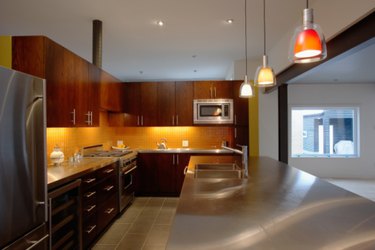 Pendant fixtures dangle like jewelry, adding visual interest and sparkle to your space. To qualify as a pendant light, the fixture must hang more than 6 inches from the ceiling. Whether you're suspending the light over your kitchen or bathroom sink, the fixture should provide plenty of illumination without getting in your way. Your electrician will offer suggestions on the proper hanging height, but if you're installing the pendant yourself, you can determine the correct elevation on your own.
Customize the Hanging Height
Glass shades shatter on impact, so a low-hanging pendant could break if you accidentally knock the shade into your wall, window, mirror or another pendant lamp. If you install the fixture below eye level, you could bump the shade when you lean forward, setting the pendant in motion. To prevent collisions, consider your height and the height of family members and guests. Install the fixture at the eye level of the tallest individual who will regularly use the sink.
The Lowest Recommended Elevation
If you prefer to follow more general guidelines, designers use different rules for the kitchen and bathroom. If no very tall individuals will use your kitchen sink, allow at least 30 inches between the bottom of your light fixture and the counter surface. If the base cabinets in your kitchen stand less than 36 inches tall, you'll want more clearance. Some designers prefer this guideline to account for different cabinet heights: Allow 66 inches from the kitchen floor to the lowest point of the pendant. In bathrooms, lighting designers generally hang pendants at eye level over the vanity to prevent unattractive shadows on the face.
Standard Depth from Wall
Most homeowners center the pendant over the sink, which works in most circumstances. Installing the fixture about 12 inches from the back wall will ensure fewer collisions. If your sink sits on an island, you won't whack your head if you place the pendant 18 inches from the edge of the countertop.
Lighting Considerations
Suspend the fixture too low, and you'll feel heat emanating from the bulbs. Hang the pendant too high, and you'll have less direct light. If you and your household members differ significantly in height, try an adjustable-height pendant that pulls up and down. To save energy and blunt the heat emitting from the bulbs, use dimmer switches. If you select a mini-pendant, one will look lonely; use a group of three instead.