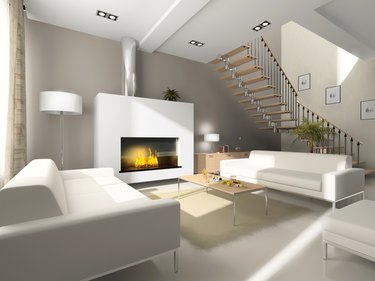 Two timeless, always on-trend, neutral colors for interior walls, beige and gray, combine to make the perfect mix of warm and cool tones: the color greige. The best greige wall colors favored by designers and decorators can update the look of interior walls without appearing too industrial, harsh or cold.
Greiges by Benjamin Moore
Greige colors by Benjamin Moore top the list of many designers' go-to neutral colors. Kristy Swain of Hyphen Interiors describes Rockport Gray as a darker, moodier gray that's smoky and sophisticated, pairing well with crisp white trim.
Designer Elizabeth Burns names Balboa Mist as her favorite shade of greige. This light, airy color has just the slightest hint of warmth, making it a wonderful color for small spaces.
Edgecomb Gray made the "favorite greiges" list at Details Design Studio, where light greige wall colors are used with dark wood floors and accent walls in charcoal, burgundy, turquoise and deep brown.
Sherwin-Williams Top Picks
Kylie Mawdsley of Kylie M Interiors recommends Useful Gray and Analytical Gray as two of the best greige colors by Sherwin Williams. These two neutrals read as gray-toned beiges with a just a hint of green undertone.
According to Cincinnati remodeling and design company Neal's, one of the hottest neutrals of 2014 was Worldly Gray. Described as a chameleon color, Worldly Gray reads as either beige or gray depending on the lighting in the room.
McClurg's Home Remodeling Blog cited Mega Greige for a dramatic effect in a room. The strong brown undertone in this medium shade of greige complements granite and natural stone tile, making it a good choice for bathrooms and contemporary-style kitchens.
Best of Behr
Another favorite posted at Elizabeth Burns Interior Design is Behr's Silver Drop. This light neutral reflects a cooler side of greige, reading either beige or gray depending on the surrounding colors.
Jenna Burger of SAS Interiors includes two picks from Behr on her top 10 list of best greige wall colors: Granite Boulder and Mineral. Both of these warm grays are also recommended by Kansas City realtor and home stager Melinda Bartling, who describes them as a perfect blend of beige and gray. Despite the popularity of gray as a neutral option for walls, it can feel too industrial or rigid to those accustomed to the warmth of beige. Greige provides a subtle way to introduce gray into your color palette without seeming too harsh.
Choosing a Color
Greige colors can be either warm or cool, depending on whether they lean toward warm beige or cool gray. Comparing a paint chip sample of greige with other samples of gray or white can help you determine the undertone.
Paint sample boards of your top greige picks and view them under the changing light conditions of the room throughout the day and evening. Notice how the colors change according to the lighting and how the colors of your existing decor and furnishings influence the color of the paint.
Using Greige
Use light tones of greige and white on walls to create a serene, continuous color flow throughout your home. Bring in accents in black and metallic finishes of chrome or silver for a contemporary, minimalist vibe. For a softer, romantic feel, pair beige-leaning light greige with light pinks, yellows and greens.
Deeper shades of greige impart a feeling of sophistication, making an impressive backdrop in a dining room, living room or an accent wall in the bedroom. Use greige to accentuate vibrant colors in wall art, textiles, upholstery and glass or ceramic accents, bringing focus to colors such as turquoise, coral, fuchsia and bright yellow.