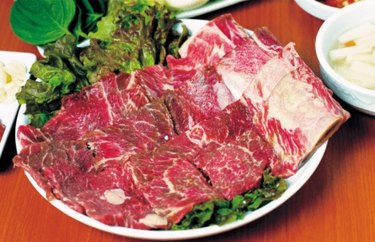 Veal piccata is a classic Italian dish that pairs freshly cooked veal with a lemon-butter sauce, capers and parsley. Veal can be delightfully tender when cooked properly, and this dish is accented well with a crisp glass of white wine. Side dishes vary from traditional pasta to salads to vegetables.
Pasta
Pasta is a traditional accompaniment to veal piccata in many Italian restaurants and family meals. Angel hair pasta, which is thin and quick to cook, is often tossed with a small amount of olive oil and Parmesan cheese before being served. The pasta provides a more filling meal than other side dishes such as vegetables. Another popular variety of pasta served with veal is orzo.
Vegetables
Mixed vegetables can be tossed with olive oil, salt and pepper for an easy and delicious side dish that pairs well with veal piccata. Choose vegetables depending on the season and what is fresh, but Italian vegetables often consist of artichokes, carrots, summer squash, zucchini and eggplant. Try grilling or roasting the vegetables for extra flavor. Add herbs such as basil, thyme and oregano for additional Italian flair.
Other Side Dishes
Polenta is a side dish that consists of cornmeal that has been cooked until it is soft and supple in texture. It can be served with a dab of butter on top as an excellent pairing with veal piccata. Other side dishes that work well with veal include green salads with fresh lettuce, radicchio and arugula topped with olive oil and vinegar dressing, or Italian bread baked in the oven with olive oil and garlic.
Wine
Certain varieties of wine pair well with veal piccata, particularly crisp whites that can cut through the buttery sauce. Italian white wines such as pinot grigios are good accompaniments, especially if you are serving an Italian-themed dinner. You can also choose American, French, Australian, Chilean or New Zealand whites with names that include savignon blanc, chardonnay and pinot gris. Choose a rose wine for a slightly sweeter taste to go along with your meal.