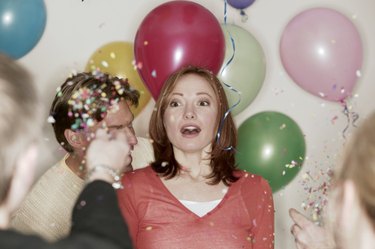 While planning a successful surprise party takes thought and work, you'll likely find it fun and exciting to pull it off without the guest of honor becoming suspicious before she finally walks into a room filled with her closest friends and family, all there to surprise her for her birthday. If you can pull it off, everybody involved will share the rewards. They key lies in finding a good excuse to get the guest of honor there.
Going Out For Dinner
Going out for dinner is an easy way to get a person to get together with you. Arrange for a large room or area of a restaurant where you can reserve enough space to throw the a party. Tell the guest of honor you would like to go out to dinner with him. Make up an excuse — for example, your oven is not working and you want hime to go out to eat with you. Have all of the guests arrive at the destination restaurant about half an hour before you plan to arrive with the birthday guest. When you and the guest of honor walk in, everyone yells "Surprise"!
You Need A Friend To Talk To
Tell the guest of honor you are upset about a personal issue and you need her to come to your house to talk over the weekend. Set up a specific time for either a Friday evening, a Saturday or a Sunday. Let her know you trust only her with your problem. Have the other guests arrive about 30 minutes before the guest of honor is scheduled to arrive. Gather them in a room with the lights off where you plan on entertaining, out of sight of the front door. Lead the guest of honor into the room where everyone is waiting, then flip on the lights. She will be pleasantly surprised.
A Bowling Date
Set up a party with a local bowling alley, then set a date with the guest of honor for just the two of you to go bowling. Have the other guests arrive, ready to party with enough time to spare, before you arrive with the guest of honor and have them congregated in a party room area of the bowling alley. Tell the guest of honor you need him to follow you because you want to show him something. He will proceed to follow you right into his surprise party.
A Movie Date
Arrange with the guest of honor to go see a movie. Drive and pick her up; when you leave her house for your outing, tell her you need to use the bathroom before you leave and that you will lock up. Leave the door unlocked for guest access. If she lives with someone else, make arrangements with that person. When you arrive back at your friend's house after your outing, all the guests will be hiding inside.