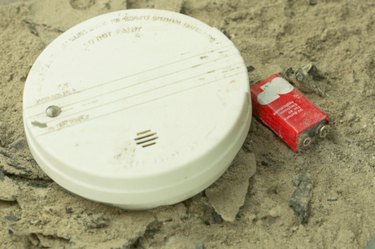 According to the National Fire Protection Association roughly two-thirds of home fire deaths in 2003 to 2006 resulted from homes with no smoke alarms or non-working smoke alarms. Smoke alarms come in a wide range of styles and prices, making them affordable to almost everyone. Checking and maintaining smoke detectors takes only a few minutes. However, in homes where fires occurred with non-working alarms, the alarm was missing batteries or had old batteries installed.
Testing
Smoke detectors should be checked once a month for proper working conditions. Follow the alarm manufacturer's instructions for testing the detectors. Smoke alarms all have a button to push to check the alarm. This test button can also be pushed to check how sensitive to smoke your alarm is to set it off. The alarm should be replaced immediately if the test button does not work. Do not use an open flame to test the alarm in any circumstance.
Malfunctions
Smoke alarms are usually very reliable but can malfunction. If a battery-powered smoke alarm begins to chirp or emit a low-power sound, the battery should be replaced immediately with a new one. If an alarm begins to sound while cooking, the alarm may need to be moved farther away from its current position near a kitchen or bath.
Routine Maintenance
Smoke alarms do not require a lot of maintenance. The batteries should be changed twice a year. One good way to remember to do this is to change the batteries when you change the time in the spring and fall. Occasional vacuuming and dusting will keep the alarm clear of dirt and insects.
Longevity
Smoke alarms last about 10 years. After that they should be replaced even if the alarm is working correctly. Newer model smoke alarms are more reliable than older models. Therefore it makes sense to replace an alarm that has reached its age limit with a newer model.