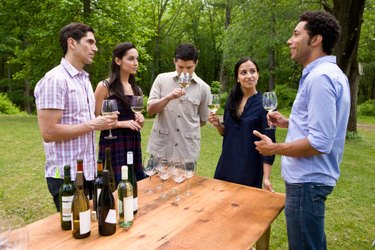 While your guests can simply mingle as the food cooks up at a cook out, there are different, more memorable activities that can structure the time, making sure that your guests all get the chance to interact with one another. This can be especially good if you have invited people who are unfamiliar with other people at the party. Such activities should be organized so that everyone present, from the oldest to the youngest, can have a good time.
Games
Games, whether they are for a larger group of people or a smaller group with other guests serving as cheerleaders and spectators, are a good cook out activity for a variety of age groups. Games of physical skill like flag football, capture the flag, croquet and badminton are good choices.
Contests
Contests can inspire camaraderie amongst your guests and break the ice among the more shy ones. Eating contests are fitting in an outdoor space, but do require an investment in food. A food-decorating contest, like a cookie-decorating contest, can be a blast, especially if you give out many specialized awards, like a "Head Scratcher" award for the strangest design.
Tastings
Depending on the group of people invited to your cook out, have taste tests of different food and drink items. For instance, try out a few different brands of hot dogs or sausages in a blind taste test or a few different recipes of margaritas or sangria. If you are hosting a family event, try a s'mores taste test using different brands and flavors of chocolates, graham crackers and marshmallows.
Performances and Shows
Performance-related events work well outside at cook outs. If the cook out is a neighborhood or family event, the kids can put on a play for the adults. For more wide participation, karaoke can be a good way for more adventurous guests to pass the time. A more structured activity is a projected movie outside. Have guests bring blankets to sit on your backyard lawn with.