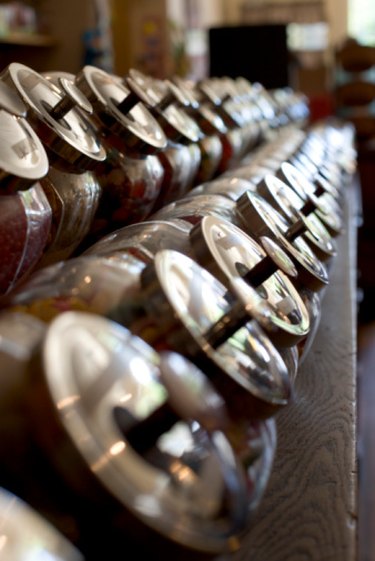 Produced by the Swedish candy company Malaco, Swedish Fish were first imported into the United States in the late 1960s. The chewy, gummy candies are in the shape of a fish with the word "Swedish" embossed on the back of each candy. A fat-free candy, Swedish Fish are available in larger packages in places such as movie theaters, as well as specialty candy shops where you can purchase them by the oz. along with other loose pieces of candy.
Cherry
The deep, bright red hue of Swedish Fish is the original color that made this candy so popular in the late 1960s. The actual flavor of the red candy is cherry, though some people refer to it as strawberry because of the coloring. The taste of the red fish, along with the other fish, is actually quite mild which is why there is some debate over the actual flavor profile of some of the fish.
Pineapple, Orange and Lime
Other flavors in the line that are often included with the cherry fish in a variety pack are pineapple, orange and lime. These fish are yellow, orange and green respectively. The pineapple has a very mild flavor. The orange has a distinctly sweet orange taste while the lime is mild and tangy all at the same time.
Grape
One interesting fact for Swedish Fish enthusiasts is that grape Swedish became part of the line along the way. This purple fish had an intense grape flavor. However, when the Cadbury Adams company purchased Leaf Malaco in 2006, it is rumored that they were the ones to discontinue the grape flavor. It sold on store shelves through 2008. Having become a collectors' item, there are people who will pay top dollar to get their hands on a box or even a package of the discontinued fish.
Lemon
A Swedish Fish that is often confused with the pineapple fish is the lemon fish. Slightly lighter in hue, the lemon fish has a tangy taste that balances nicely when eaten with the other fish in the line. The tang makes it popular amongst people who enjoy sweet and sour flavor candy.
Salmaik
This black, licorice fish is quite a departure from the other fish in the line. With heavy amounts of ammonium chloride, starch and licorice root extract, it is not as sweet as the other fish. In fact, some have dubbed it the "salted herring," mistaking the starchy taste for a salty taste. Also, rather than having "Swedish" embossed on the side, this fish has "Malaco" in its place.