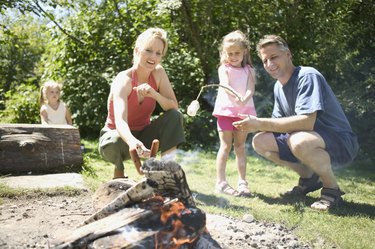 A wiener roast brings guests together around an open fire to cook their own hot dogs over open flame; pile plates full of side dishes; and enjoy the fellowship of a brisk fall evening. Since both the weather and access to electricity can vary, the perfect foods for a wiener roast are those that can be served safely at a variety of temperatures. Low-cost and hearty ingredients feed a crowd without breaking the bank.
Hot Dog Fixings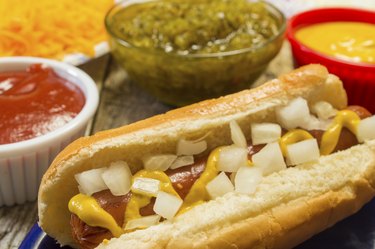 First, don't forget the essentials needed to make a flame-roasted wiener complete. Supply a variety of buns including white and whole wheat, sesame seed and bakery buns to satisfy a variety of tastes. In addition to the traditional dill and sweet pickle relish, mix up a homemade Southwestern corn relish using blanched corn kernels; finely chopped tomatoes and peppers; and sugar, salt, oil and vinegar to taste.
Other condiments and toppings to supply:
Ketchup
Mustard (supply both regular and Dijon varieties)
Chopped onions
Shredded cheese
Sauerkraut
Baked Beans and Potatoes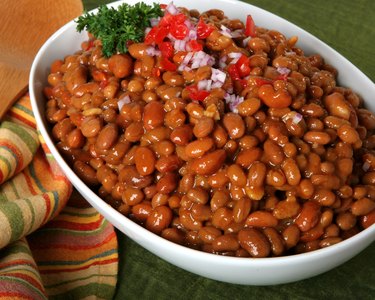 Feed a crowd economically with traditional and filling baked beans and potato dishes. Try mixing up these classic sides by using black beans instead of traditional pinto or kidney beans, or mix the three together. Chop bell peppers finely and mix into the beans and cut back on the amount of sugar in the recipe. Add a bit a cumin and chili powder, and give the beans a Southwest flair. Mash potatoes with vegetable stock and roasted garlic instead of cream and butter to lower the calories and add flavor.
According to the U.S. Food and Drug Administration, hot side dishes such as these need to be kept hot, at more than 140 degrees Fahrenheit, until ready to serve. If there is no electricity or access to space on a heated grill over the flames to keep these dishes warm until time to serve, pack them in an insulated carrier and plan to serve them within 2 hours. Discard any leftovers not eaten within that time if they can't be transferred to a refrigerator right away.
Cold Sides
Keep cold side dishes such as potato salad and coleslaw cold by storing them in an insulated cooler over a solid block of ice until ready to serve. Reduce some of the food safety issues from a traditional mayonnaise-based salad by altering the dressing. Dress a potato salad in a classic vinaigrette and skip the eggs. Add other diced vegetables such as celery, cucumber, onions and peppers instead. A sweet and spicy slaw, including finely chopped pineapple and jalapeños, avoids the pitfalls of a creamy dressing. Consider creative salads, such as dilled cucumbers; tomato bruschetta salad; and quinoa salad with corn and black beans, to avoid duplicating the old favorites at a pitch-in.
Bring out S'more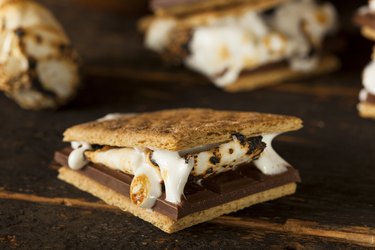 At the end of a wiener roast, kids and adults alike enjoy the tradition of roasting marshmallows. Serve these roasted marshmallows by smashing them into a graham cracker sandwich with chocolate bar pieces to create the classic s'more. Done correctly, the hot marshmallow melts the chocolate, creating a gooey concoction. For grownup wiener roasts, create more sophisticated variations on this favorite by bringing a flavored chocolate bar spiced with chili powder or swirled with dark fruits. Make homemade flavored marshmallows and bake a batch of cinnamon graham crackers for your foodie friends. Wash hot dog cooking spears thoroughly using dish soap and water before using them to roast the marshmallows to avoid cross-contamination of bacteria from the meat.