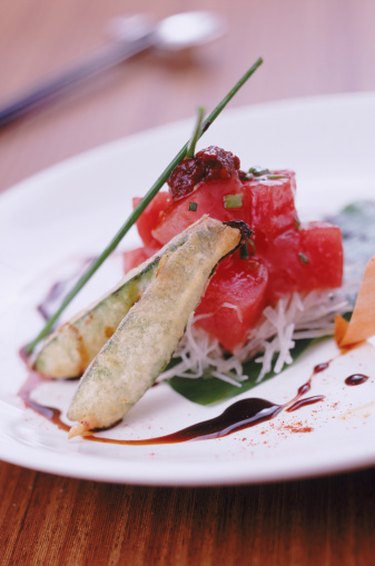 Tuna, which is featured in a range of recipes from tuna salad sandwiches to Nicosia salad and grilled tuna steaks, has swam its way into the diets of many people. The versatile fish can easily be seasoned to fit a variety of flavor profiles and types of cuisines. With the right spices, its easy to make a delicious meal with tuna fish.
Italian
Mediterranean cuisine often showcases fresh seafood. Celebrate the taste of Italy by seasoning tuna with flavors and spices from the Mediterranean. For instance, use fresh garlic, garlic powder, dried basil and dried oregano to give the tuna a distinctively Italian taste. Italian spices are not overpowering: while they add a burst of flavor to the tuna, they allow the taste of the fish to shine through.
Indian
Cooks looking to jazz up tuna salad can liven it up with some Indian spices. After mixing together canned tuna with mayonnaise or plain yogurt, add a dash or two of your favorite curry powder. The result is a tuna salad that boasts the spicy flavors of traditional Indian dishes. Add more flavor and texture to the salad by throwing in some chopped carrots, cucumber, grapes, apples, almonds and other ingredients.
Cajun and Creole
Cajun and Creole seasoning are not just for catfish and shrimp: jazz up tuna with some zesty southern spices. To make the blackening spices, mix together paprika, cayenne pepper, black pepper, garlic powder, cumin, sage and salt. Mix the spice with melted butter, then use a basting brush to layer some spicy southern flavors onto the tuna fish. When grilled or fried, the fish will absorb the heat and the spices will create a flavorful crust.
Asian
Tuna is a crucial part of many Asian cuisines and can be found in anything from sushi to stir-fry. To give tuna a blast of flavor from the Orient, spice it up with some star anise, coriander, cumin, dried bird's eye chili, salt and pepper. This combination of spices teases the palate with a mixture of spicy, sweet, sour and salty tastes. One bite and diners may feel as though they've traveled to Asia.