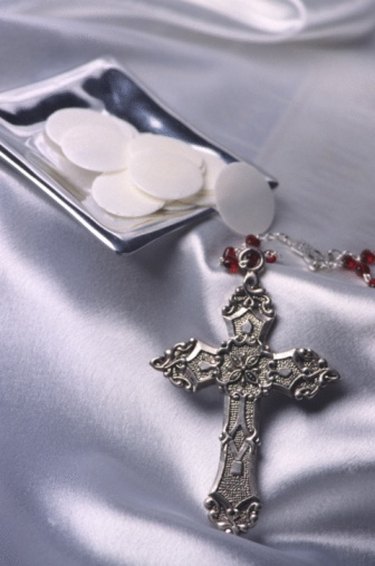 A child's First Holy Communion is a special sacrament within the Catholic Church when the child receives the Eucharist — the body and blood of Christ — for the first time. This sacrament is cause for celebration in Catholic families, and many families host a party after the service. If you are hosting a First Holy Communion party, there are many ideas for centerpieces for your table.
Flowers
Fresh flowers and floral arrangements make beautiful centerpieces for a First Holy Communion. This sacrament typically takes place during the springtime, and flowers such as Easter lilies and white roses work especially well. You also can accent white flowers with other colors or use centerpieces made of colorful flowers. You can add religious symbols such as small crosses or angels to your floral arrangements.
Balloons
Balloons can add a festive atmosphere to your First Communion party. Check with your local party store for balloons specially designed to celebrate First Communion. You can also use general congratulations balloons or balloons in spring colors such as white, light blue, pastel pink or pale green.
Cake
Another unique centerpiece idea for a First Holy Communion is to use the cake as the focal point of the table. This works especially well when you are hosting a smaller party, with family and friends gathering around a single table. A First Holy Communion cake can be a sheet cake decorated with symbols such as a cross, rosary or angel accents, or it can have several tiers.
Party Products
Traditional paper party products also make great centerpieces for a First Communion party. These products work well for open houses and backyard barbecue parties. There are lots of party decorations with a religious theme. Consider a fold-out, three-dimensional cross centerpiece or a cascading centerpiece with tiny crosses spilling over the edges. You can use one large centerpiece for a single table or choose smaller centerpieces if you ave several small tables.