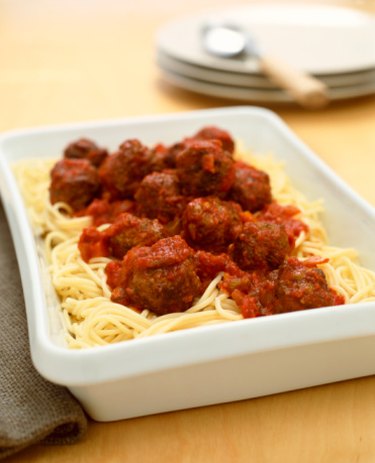 Spaghetti dinners are a great way for a small group to raise money for just about any cause. The only resources you need are a large dining hall, some volunteers to cook and serve, the ingredients for the meal, and entertainment. There are several different options for entertainment for a large group. The type of entertainment will depend on the type of audience you expect and target.
Silent Auction
Celebrations.com suggests a silent auction as a main event for a dinner party. This event may be ideal for a more mature crowd. Ask local businesses and benefactors to donate items for your cause in exchange for free advertising on banners, posters and announcements at your event. All the items must be displayed with lined paper on easily accessible tables. Guests will write their bids on the lines. After dinner is served, the winners will be announced.
Concert
Another option for dinner entertainment is a concert. This option is adaptable to the type of audience that is expected. An event that expects high school students may host a talent show-style concert or karaoke. A more classy option would include a jazz concert or a barbershop quartet. High school bands and choirs are often willing to donate their time just for the exchange of a public performance opportunity.
Dinner Theater
Probably the most elaborate event is the dinner theater. This option requires more time, preparation and resources. You'll need time to select actors, rehearse and prepare set pieces. If an actual production proves too difficult, use a local comedian or storyteller.
Raffle
In a raffle event, prizes are collected from local donors just as in preparation for the silent auction, but instead of making bids, guests will purchase raffle tickets. Throughout dinner, draw tickets for different prizes. Generally the better the prizes, the larger the crowd.