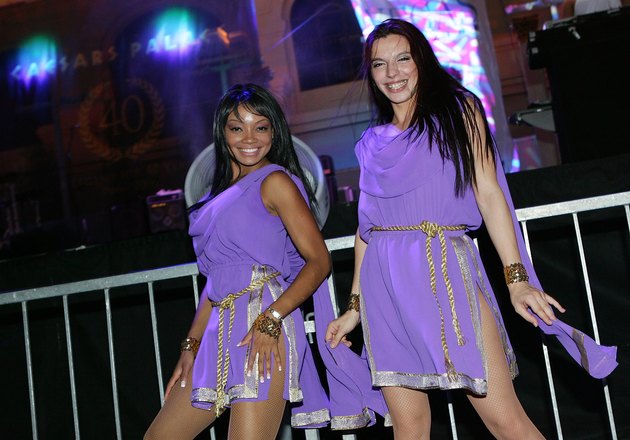 If you have ever seen the movie "Animal House," you know what a toga party is. Togas, on the other hand, are free-flowing garments originally worn by ancient Romans. Whether you are throwing a toga party, attending one or wish to wear a toga as a costume, you need to create a toga. Luckily, there are several female toga ideas that will help you look "kalos" (Greek for beautiful).
Get on the Case
If you are of small to medium stature, a queen or king-size pillow case provides ideal working material for creating a toga. While the Romans wore flowing scarves over tunics to create their togas, the pillowcase toga is just the tunic part. The manner in which the pillowcase is cut with scissors gives the pillowcase its "toga-look." Cut the hemmed end of a pillowcase from the center of the hem all the way to the side, creating a slanted neckline.
Hold the pillowcase up to your front and line it up so that you may mark the spot to cut an armhole for the arm that is opposite the slanted neckline.
Put the pillow case on, through the natural open end, over your head, and pull it down to fit over your shoulders and waist. You are now wearing a toga. Dress it up with a belt using a length of gold drapery cord tied around your waist.
Brooch The Subject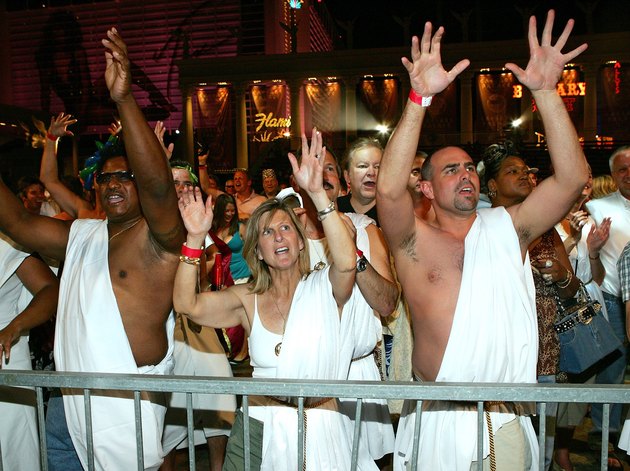 For a longer toga, wear a simple white or off-white dress, preferably without sleeves. You can also wear any long T-shirt or one meant as a bathing suit cover-up. Wear a pair of white shorts or pants under the T-shirt if it is too short. Turn the T-shirt inside-out if it has a print, so that it appears to be a solid color. Cut off any tags that may show.
Ancient Romans wore draped togas that were about 18feet wide and 7 feet deep, but use whatever you have, such as a twin-size flat sheet. Drape the length of fabric across your body and secure it at one shoulder with a large brooch. Also consider using a very large safety pin with a cluster of artificial leaves hot-glued to the pin. Wrap leftover fabric around your waist and let it hang toga-style.
What a Contrast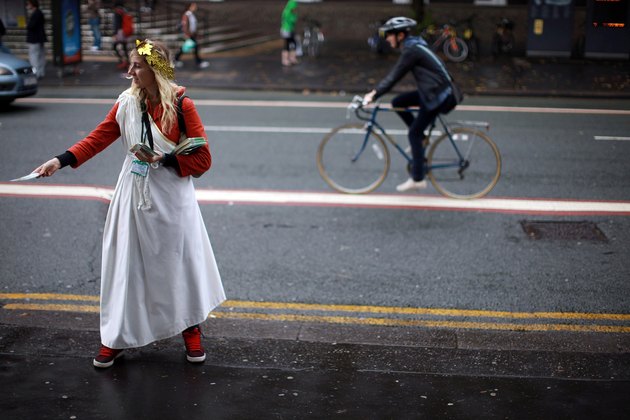 Another way to create a toga wearing a long, white T-shirt or a simple white dress is to stitch a 3-inch roll of fabric trim along the bottom hem of the T-shirt or dress. Choose a regal purple, green or gold trim. For the draped toga fabric, pick a dark red or purple color to create contrast between the white tunic and draped toga fabric. Add a small, dark red cap to hang from behind for more color contrast.
It's All in the Details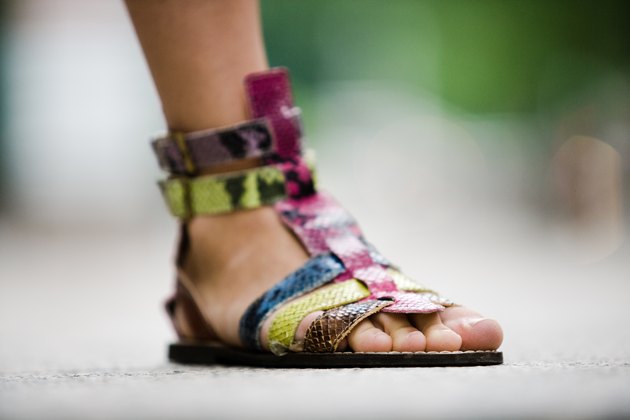 You do not want to ruin all your hard work creating a toga look by wearing shoes that clash with your toga outfit. Brown or black leather sandals without heels are best suited to complete your look. Add several gold bangles to your wrists and do not forget to dress your hair too. Place a wreath of artificial greenery on top of your head and secure it with bobby pins, or wrap a jeweled belt around the crown of your head, secured with undetectable hair clips.