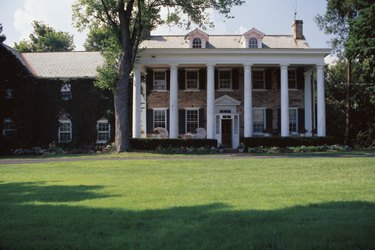 The colonial-style home came to North America in the 1700s. The several types of colonial styles include Cape Cod, Saltbox, Georgian, Charleston, Plantation and the Dutch Colonial. While the exterior style of the centuries old design has not changed dramatically, the interiors do express the modern advances in architectural capabilities. Colonial homes are not for everyone, though. You must consider several factors when deciding on your functional and aesthetic needs.
Overall Popular Exterior
Most Americans are at least vaguely familiar with the exterior elements of the colonial home. Most notable are the symmetrically placed exterior columns. Colonial homes typically have a centrally placed main door. The area around either side of the door is symmetrical on both sides. These homes have clean lines that give them a neat and conservative look. With the many variations in sizes of colonial homes and materials used in construction, the homes are elegantly simple rather than eccentric.
Compartmentalized Rooms
The interior of a colonial style home is compartmentalized. Each room has distinct boundaries. The open floor plan found in a rambling styled home isn't typically found in colonials; these plans have fewer walls acting as dividers. The compartmentalized floor plans of a colonial-style home are ideal for lifestyles that demand privacy and seclusion. Those who enjoy openness will not appreciate the isolating feel of the typical colonial floor plan.
One Story vs. Two Story
Most colonial styled homes have two stories. A two-story home is not ideal for people with mobility issues or for people with young families. Elderly people who have difficulty climbing will find stairs to be a disadvantage. Families with small children are burdened with the installation of safety gates at the top and bottom the staircase to prevent falling injuries.The advantage to building a two-story home lies in the fact that the construction costs are lower than those of a one-story home with the same overall area because the foundation requires less concrete. Additionally, the two-story home provides greater living space on a small parcel of land.
Resale of the Colonial Home
Selling a colonial style home is easier than selling a contemporary home or log cabin. People either love or hate the contemporary or log-cabin-styled homes. The colonial homes fall somewhere in the middle. They're not found offensive or heavy on eccentric structural or cosmetic accents. At worst, the colonial style has a reputation as generic, but most generic qualities allow for easy modification. Add charm by dressing up landscaping or by adding window shutters or lighting fixtures. The generic nature and malleability of a colonial home are advantageous to the colonial home seller because of the larger pool of potential buyers.