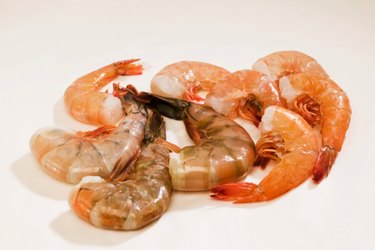 As you look around the grocery store or local market for seafood, you may notice quite the selection of shrimp. Usually you will find frozen or previously frozen shrimp on display, as fresh shrimp has a very short shelf life. Before you buy your shrimp, you should understand the size ratings. This will let you know how much shrimp to expect per pound as well as the expense.
Size Rating
In the United States, shrimp are sold by the number of shrimp per pound. The larger the size and weight, the fewer shrimp per pound. On the shrimp packaging, you will find the shrimp per pound in increments of five for larger sizes and increments of ten for smaller sizes. Since there are slight variations per shrimp, the package will give you an estimated count.
Sizes
The size ratings are usually extra small, small, medium, medium large, large, extra large, jumbo, extra jumbo, colossal and extra colossal. The largest shrimp size you will find is extra colossal. The extra colossal shrimp have an average of five shrimp per pound. The colossal size comes next in line for the largest sized shrimp. Colossal shrimp have approximately 9 to 14 shrimp per pound. Extra jumbo sized shrimp come in next at an average of 18 shrimp per pound. Jumbo size follows at around 23 per pound.
Expense
The larger the shrimp, the more expensive they will be. The smaller the shrimp, the cheaper the price although you receive a lot more shrimp per pound with the smaller varieties.
Uses
Larger shrimp are often used in grilling situations. Although the larger shrimp are less likely to fall through the grill grate, you will still want to use a skewer. You will also find the larger shrimp in Cajun style cooking. The smaller shrimp are a bit sweeter and are often used in salads and cocktails.