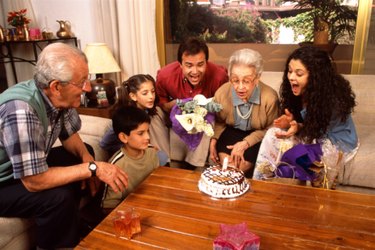 When a woman turns 80, it is an occasion to celebrate and honor her. The way it's done depends on the tastes, physical condition and desires of the woman being honored. Some prefer a small gathering of friends and family while others like to be surrounded with everyone they know. Consider her favorite places, people, music and foods to plan a party that will bring her joy that will linger in the memories of all who attend.
Decorations
Choose a location that will be comfortable for the birthday lady. This may be someone's home, a restaurant, a banquet hall or an outdoor location. Decorate with the guest of honor's favorite flowers and colors and provide a program for all guests that includes her picture and pertinent information about her life. Place photo collages on walls or easels, including pictures of all the highlights of her life from birth through school years to adult life, including her marriage, jobs, hobbies, trips and the births of children, grandchildren and great-grandchildren. Load a digital photo frame with the pictures and present it as a gift.
Entertainment
By the time someone reaches the age of 80, she usually has close acquaintances with all different kinds of skills and talents. Recruit friends and family members to play instruments, sing, dance, do a skit, write and recite a poem about the guest of honor, put together a DVD highlighting your octogenarian's favorite moments or write a story or speech that emphasizes her qualities. If this isn't possible, hire a band or DJ to play her favorite songs.
Food
Serve your guest of honor's favorite foods and drinks. They can be prepared by a preferred restaurant, a caterer or family and friends. If the woman follows dietary restrictions for health restrictions, do not include food she can't have. While party food usually doesn't consist of sugarless, fat-free fare, many recipes made with healthy ingredients such as fruit, vegetables and whole grains are delicious. Find out what the honored lady likes best and provide it.
Gifts
Gift selection is personal and depends on the recipient's tastes. Many people may state a preference for no gifts and think the presence of the guests is more than enough. Others are touched by gifts from the heart such as a poem that highlights her life, a framed photo or portrait of her with her loved ones or a homemade item such as a quilt or piece of jewelry. Gifts that she can use for a favorite hobby, gift certificates to help with household tasks, a CD with songs she loves or tickets to a concert or play she wants to attend are welcome. For higher-priced items, many people may choose to go in together on a gift.