While s'mores are usually a campfire fave for kids, good grub doesn't have to be compromised while dining in the outdoors. From make-ahead recipes to cuisine that begs to be cooked on an open flame, we've got your next family camping trip menu covered.
Crescent Roll Hot Dogs
Give a classic camping food a fun new spin by cracking open a roll of crescent dough. Wrap one roll around each hotdog and cook over the fire as usual.
Hand-Held Berry Cobbler
This cobbler works as well for breakfast as it does for dessert. Start with 2 cups of fruit in a recyclable aluminum pan. Sprinkle a tablespoon of brown sugar on top then simply line the top with store-bought biscuits. Either cover with foil and plan to bake on the grill (about 30 to 40 minutes) or pre-bake at home (about 30 minutes at 375 degrees F), then reheat at the campsite.
When it's time to serve, just flip a biscuit upside down and let everyone eat with their hands. #nobowlsneeded
Make-Ahead Macaroni & Cheese
Nothing's as forgiving as reheated mac & cheese. This simple version comes together in minutes: Boil and drain 10 ounces of elbow macaroni. Return to the pan and add 2 cups of shredded cheddar cheese, 1 beaten egg, 1 teaspoon mustard plus salt and pepper to taste. Cover with foil and refrigerate (or freeze), then reheat over the grill with foil on top.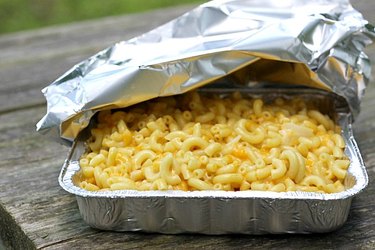 Tip
Since camping food is often light on veggies, try adding a cup of matchstick carrots or cauliflower florets to your pasta during the last 2 minutes of cooking time. The kids won't notice but the nutritional boost will be there.
Campfire Stromboli
This giant ham and cheese sandwich is another make-ahead meal that can be frozen for easy transport. Spread an uncooked pizza crust on a sheet of foil, then layer with cheddar cheese, ham and salami, plus another layer of cheese. Fold the top over and bake for 25 minutes at 400 degrees, with the foil covered until the last 5 minutes of cooking time. Allow to cool completely, and then wrap again to reheat over the coals.
Instant Blueberry Pancakes
This is an old family camping trick: Pick up a package of "just add water" muffin mix to make fresh pancakes on any camping stove in minutes.
Peek-a-Boo Breakfast Pockets
For a make-ahead healthy breakfast on your camping trip, fill whole-wheat tortillas with a scrambled egg combo. Ours includes fresh tomatoes, spinach and cheddar cheese. Leave one end open for a sneak peek at what's inside and use a toothpick to hold the edges in place.
Wrap your pockets in foil individually and freeze, planning to warm over the fire later.
Cinnamon Rolls Roasted in Oranges
Part science project, part decadent treat, the secret of baking cinnamon rolls on a campfire is simple: Put one pre-made cinnamon roll inside a scooped-out orange and simply set in the coals. The peel will act as a pan, shielding the bun from the ashes while keeping them moist as well.
Scouts' Pouches
Create aluminum foil pouches and fill each one with a combination of ground beef, sliced potatoes, baby carrots and sliced sweet onions. Drizzle a little Worcestershire sauce and ketchup over the top and sprinkle with salt, pepper and rosemary. Fold the edges at the top and store in a cooler until it's time to cook on the grill. About 25 to 35 minutes, depending on the temperature of your coals.
S'mores in a Cone
Put a fun new spin on an old favorite — with a lot less mess — by stuffing sugar cones with mini marshmallows and chocolate chips. For more flavor, consider adding peanut butter and banana slices too. Wrap the whole thing in foil and roast right on the coals. Be careful though! It only takes a few minutes to melt everything through.