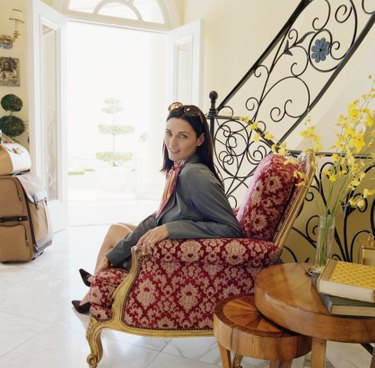 An accent chair can be used to pick up on a highlight color within the theme of a room adding visual interest and pulling a color scheme together. The accent chair is often a different style, is not part of a suite of furniture and is often upholstered in a different, patterned fabric than the rest of the furniture in the room.
History
Historically, an accent or occasional chair is meant for use every now and then. This means they can be upholstered in a more expensive or more delicate fabric. Although often used in living spaces to accommodate extra guests, they are also found in bedrooms, used as a place to put clothes. A contemporary approach sees accent chairs used for purely aesthetic purposes, to tie together a color scheme or add visual interest by introducing a sculptural aspect to a space.
A Different Style
Choose an accent chair that is a different style to the rest of your furniture, such as a wing chair or small armchair. A rocking chair or chaise would also make a good accent chair. An accent chair is a place for one person to sit and shouldn't be too big, or dominant within the space. A sculptural chair adds drama and interest to a space in the same way as a work of art does.
Upholstery
The upholstery should include the highlight color of the interior scheme -- the whole chair can be upholstered in it or the upholstery can be an interesting pattern that includes the highlight color. The accent chair can provide a chance to use a bolder fabric than would be used in a larger area -- so consider using loud, patterned fabrics like florals or stripes but remember that although the chair should stand out, it shouldn't look out of place.
Function
An accent chair should be functional as well as attractive, so place yours somewhere you'd like to sit, such as by the fire, by the window or beside a much-loved artwork. Make sure the chair is big enough and comfortable enough to be used.