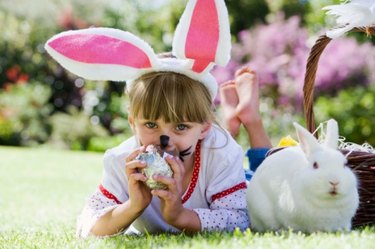 Easter is considered both a religious and a secular holiday and therefore, short stories for Easter can be either religious or secular as well. Reading and sharing stories for Easter is a fun event during family gatherings, school lessons and church meetings. Finding the right story for the right occasion is important. For example, most public schools do not allow religious Easter stories to be read in class, but will allow fun, spring-time stories that teach a moral value.
Secular Easter Stories
Children love stories about springtime and Easter. Even though Easter is a religious holiday, it is also a celebration of springtime and new beginnings that anyone can celebrate. The Easter holiday is very much about celebrating family, new beginnings, bunnies, baby chicks, gardening, decorating eggs, baskets full of candy and spring flower bouquets. Easter is also celebrated with the Easter bunny hiding eggs and candy for children. There are many Easter books and short stories for children that are about these subjects and are totally appropriate for reading in a school setting. A few examples of fun Easter stories are, "How Brother Rabbit Fooled the Whale and the Elephant," "The Little Half-Chick," "Bunny Trouble," and "The Song of the Spring." Butterflies and silk worms are also the subject of many short stories during this spring holiday.
Easter Stories that Teach a Moral
Short stories are a wonderful method of teaching a valuable lesson in human behavior in both a quick and understandable way. Easter stories can be secular and still teach a moral, such as Beatrix Potter's Peter Rabbit series. Peter Rabbit and his siblings Flopsy and Mopsy learn about obedience through their forbidden adventures in Farmer John's garden. Other short stories such as the famous Aesop's fables teach a moral value and are appropriate for Easter.
Religious Easter Stories
Easter short stories are perfect for teaching the story of Jesus Christ and the Christian principle of atonement. Religious themes taught in Easter short stories may also teach a moral, such as service, faith, repentance and forgiveness. For example, the famous author Charles Dickens teaches about eternal life in his Easter story, "A Child's Dream of a Star." Easter short stories can help us understand some of the more complex religious beliefs such as Judas Iscariot's betrayal, forgiveness, the last supper, Jesus washing the disciples' feet, suffering in the garden of Gethsemane, Palm Sunday, carrying the cross, the three thieves, Mary the mother of Jesus and Mary Magdalene, Jesus' suffering on the cross, the tomb, the resurrection and feeling the nail prints.
Writing a Short Story About Easter
It is rewarding to write your own short stories about Easter. Children can write an Easter story to bring home from school or Sunday school to share with their families. Adults can write an Easter story to share with a Sunday school class and possibly publish. Choose the theme of your Easter story, whether it be religious or secular. A short story needs to introduce the characters quickly, as well as the setting and the time of the story. Decide who is telling the story, such as a narrator or a character. A short story should have action, a climax or conflict and then a resolution and conclusion.