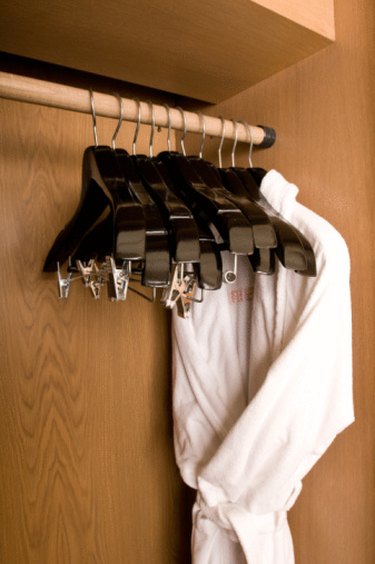 When installing a closet rod, height is one of the main things to consider. A closet rod must be high enough off the ground to allow ample room for clothing, coats or whatever will hang on the rod. However, it should be easily reached by everyone using the closet.
Normal Bedroom Closets
If you are hanging a closet rod in a normal bedroom closet, consider that the average or standard height used to install the rod is 45 1/4 inches, which is by no means set in stone, so adjust it to your needs. If you are taller than average, opt to hang the closet rod a few inches above this mark. You'll have more room to hang longer pants and coats beneath the rod. Allow about 24 inches of space behind the rod to hang garments and 4 inches above the rod before you add shelving, which allows for easy hanging of clothes.
Tall Bedroom Closets
In closets where long clothing is hung, hang the rod much higher. A rod set at 65 inches will accommodate most dresses, coats and even sleeping bags or quilts. This measurement leaves almost 5 1/2 feet of space from the floor to the rod. Remember that the hangers subtract about 6 inches of space from the actual height from floor to garment since they hang down below the rod. If you can reach higher than this, hang the rod higher, at 70 inches or 72 inches, which is a full 6 feet above the floor.
Dual Rods
If you are installing dual rods in the closet, the hanging measurements and spacing changes. Continue to allow about 24 inches of space from the rod to the back of the wall, but increase the height of the top rod. Make this a full 80 1/4 inches above the ground, which is high enough to hang two levels of clothing with 40 inches in between. The lower tier rod hangs at 39 1/4 inches above the ground. That allows a minimal amount of space from this rod to the floor for pants, shirts and sweaters. The dual rod allows for maximum clothing storage in a small space, which is ideal for those with lots of hanging clothes.
Shelving and Options
When you hang a rod, the spacing depends on surrounding shelving and storage options. Hanging a rod slightly higher allows more space for shelving underneath. If you hang the rod at 50 inches, you gain an extra five inches for another small shelf or cabinet. Hang it at 53 inches, and you gain another 8-inch cabinet. If you want to hang it lower, you allow more storage over the rod. The absolute lowest to hang a rod is 39 1/4 inches, however. Any lower and the clothing will drag on the floor.