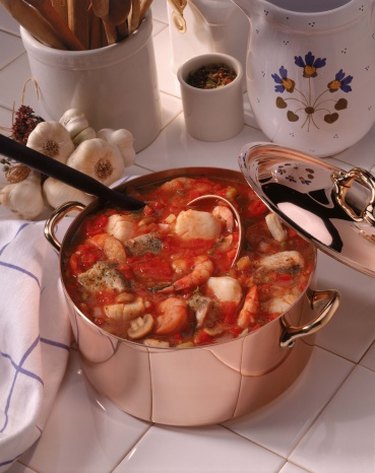 Seafood gumbo originated with the French Creole settlers in Louisiana. Marrying classic French techniques, African American spices and local ingredients, the stew is a literal melting pot. Gumbo was influenced both by Creole cooking made famous in New Orleans and the country styles Cajun cooking from Acadiana (French Louisiana). There are many different interpretations of gumbo, but they all start with a dark roux and end as a rich, thick stew.
Roux
A traditional French technique, roux combines equal parts of oil or butter and flour into a paste. Add the ingredients to a heavy-bottomed sauce pan over medium-low heat and stir it continually until it's completely combined. For gumbo you want to cook the roux until it becomes a dark brown color, about 20 to 25 minutes. Stir continually to avoid clumps.
The Trinity
The Creole trinity replaces the carrots in the French mirepoix, which also includes onions and celery, with green peppers. Traditionally you would use a ratio of 2:1:1, but if you like one vegetable more than another, increase the amount of that one and use less of the other. But don't omit any vegetable or you will change the flavor completely.
Seafood
Seafood gumbo reflects the abundance of seafood available on the coast of Louisiana. Use the freshest ingredients available at your local seafood counter. Add whatever you like, but keep in mind that seafood cooks quickly, and you do not want to add it until the gumbo is almost done.
Traditional Additions
The addition of liquid makes the gumbo a stew. You can keep it simple and use water, but seafood stock and clam juice add even more flavor. Okra often appears in gumbos, as does hot sauce. And, if you can find it, gumbo file, or sassafras root, traditionally gets added toward the end of cooking. Serve the gumbo with a scoop of cooked white rice.