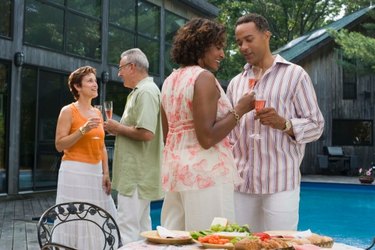 During the spring and summer months, many gatherings are held outdoors in order to soak up the sun and enjoy the excellent weather. Unfortunately, as the day goes on and the sun beats down, party appetizers have a tendency to spoil. Choosing appetizers that taste good hot or cold is your best bet when planning your outdoor shindig.
Fruit Kabobs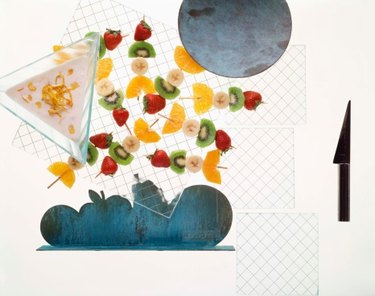 To make fruit kabobs, cut pineapple, cantaloupe, honeydew melon, kiwi, bananas and oranges into 1-inch chunks. Thread these items alternately along with small strawberries on as many kabob skewers as needed, and place in a glass baking dish. Pour a mixture of 1 cup of orange juice and ¼ cup of lime juice over the kabobs, cover with plastic wrap and chill for at least 30 minutes. You can serve the kabobs as they are or with a dip made out of 8 oz. of vanilla yogurt and 2 tbsp. of frozen orange juice concentrate.
Corn Dip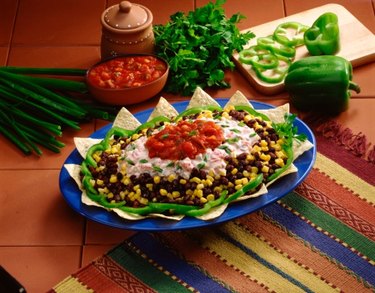 It isn't a party without chips and dip. Instead of serving up regular tomato-based salsa, try a corn dip. Spray a casserole dish with cooking spray, then mix together 20 oz. of petite diced tomatoes, 15 oz. of drained canned black beans, 1 cup of frozen or canned corn, ½ cup chopped green pepper, two medium tomatillos with the husks removed, one finely chopped jalapeno, one clove of chopped garlic, 1 tsp. of chili powder and ½ tsp. of ground cumin. Top with ½ cup of shredded Mexican cheese blend and microwave for five to seven minutes. Top with chopped cilantro.
Meatball Sliders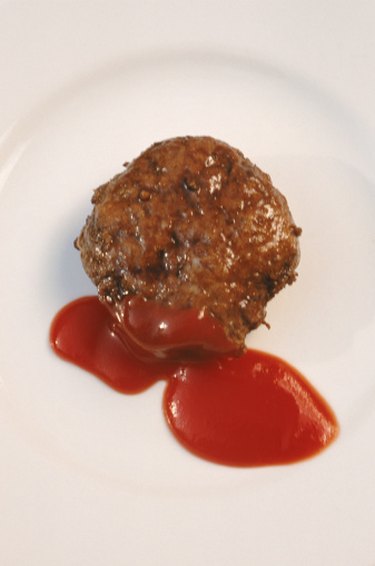 Meatball sliders are a great party food because they can spend a few hours cooking in a crock pot while you prepare the rest of the food. For this particular slider recipe, line the bottom of the crock pot with one large chopped red onion. Top with a package of 24 frozen meatballs and then pour on the sauce mixture, made of 26 oz. of pasta sauce, 1 tbsp. of balsamic vinegar and ½ tsp. of crushed red pepper. Cook on low for four to five hours, or high for two to three. Just before the party, split 25 cocktail buns, and fill with a slice of tomato, a slice of provolone cheese and a meatball.
Chicken Wings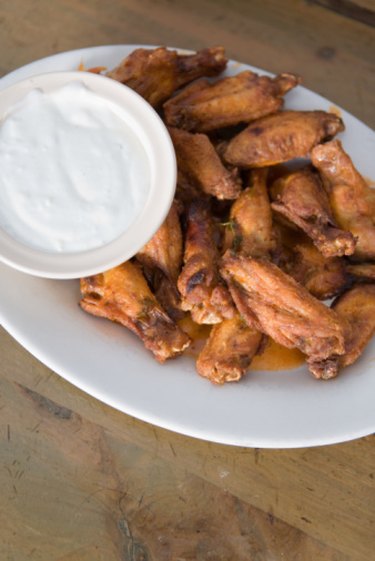 Chicken wings are always a hit at parties, and are very versatile because they can be tossed in any number of sauces, such as honey barbecue, teriyaki or buffalo. Baking the wings in the oven at 425 degrees is one of the easiest methods. First, coat the wings in flour, then place in the oven for 10 minutes. Remove from the oven, and cover the wings with the desired sauce, turning the wings over in the process. Back for another 10 minutes.