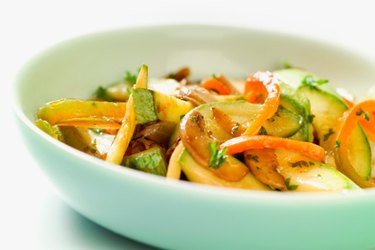 Fire-shooting onions, flying shrimp, flipping knives -- these are just a few spectacles you might experience when watching a trained chef prepare a meal at a Japanese hibachi-style steak house. In Japanese, hibachi means "fire bowl" and generally refers to cooking food on a grill. Though the tricks these chefs perform make the preparation seem difficult, you can actually cook much of it -- especially the vegetables -- at home. Hibachi isn't exclusive to Japanese food but can refer to food from any culture's cuisine that's prepared on a hot oily surface. You can even cook hibachi-style vegetables by sauteing them with oil in a frying pan or wok.
Japanese-Style Hibachi
At Japanese-style hibachi restaurants, chefs cook in front of guests on a large, flat grill. Meals start with a shrimp appetizer, followed by rice, vegetables, and the main course, which is usually a combination of steak, chicken or fish. The vegetables are usually any combination of onions, zucchini, broccoli, carrots and bell peppers. The onions and peppers are diced, while the zucchini is cut lengthwise, then in half to make it more bite-sized. The carrots are thinly sliced, and only the broccoli florets -- and not the stalks -- are used. Vegetables are cooked with vegetable oil on the grill and seasoned mainly with soy sauce.
Mexican Fajita
Fajitas combine seasoned meats and sauteed red onions with red, yellow and green peppers. The onions and peppers are cut lengthwise into strips so that all ingredients can be rolled in a flour tortilla.
Spanish Tapas
Spanish tapas are small plates of food served as appetizers or combined as a main entree. Tapas include a variety of hot and cold foods, such as cheese, spicy sausage, seafood, and fried foods. A few examples are salted cod croquettes, marinated artichokes, and stuffed-baked snails. Garlic mushroom are a savory vegetarian tapas dish. Whole-button mushrooms are sauteed primarily with olive oil, garlic, sherry, lemon juice and paprika until they are tender. If the mushrooms are too big to eat whole, they are cut into quarters or sliced into bite-sized pieces.
Indian Vegetable Biryani
A common dish throughout India is vegetable biryani, which contains sauteed vegetables cooked with Indian spices and rice. Cauliflower, carrots, peas, sweet bell peppers and green beans traditionally make up vegetable biryani. The vegetables are sauteed until they are tender before adding the rice. An array of flavorful and aromatic Indian spices adds regional flavor to this dish.
Greek Cuisine
Greek cuisine utilizes an array of beans in its dishes, such as lentils, fava beans, and green string beans, also known as "fasolakia." In a Greek dish called "fassolakia me kolokythakia," green beans and zucchini are sauteed together with onions, tomatoes and olive oil, and stewed to enhance their flavor. The green beans are cut in half lengthwise so that when they are cooked, the beans become flattened. The concoction simmers for about an hour to allow the tastes to meld and to soften the vegetables -- without allowing them to become mushy.