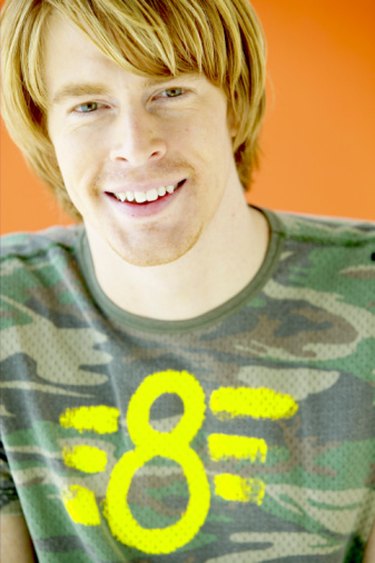 When you want to paint a T-shirt there are a variety of types of paint that you can use. The paints used on T-shirts are specially designed for use with fabrics so they apply correctly and don't run when they are washed. Knowing more about the types of fabric paints that are available will help you decide which is best for your project.
Textile Paints
Textile paints are easy to use and come in a variety of colors. Textile paints can be applied to a T-shirt using a variety of different methods. For instance, you can use a sponge or brush to apply the paint. Textile paint needs to be heat-set in most cases, or it will run when you wash your T-shirt. You can heat-set a T-shirt paint by ironing or machine-drying it inside out.
Dimensional Paints
Dimensional fabric paints have depth or texture. These paints are sometimes called "puffy" paints. Puffy paints are sold in a variety of colors and sometimes have glitter added to them. Some puffy paint can even glow in the dark. Puffy paint can be used to make a variety of designs and shapes on a T-shirt. They are also used to add detail and as outlines.
Spray Paints
Fabric spray paint is a watery paint that you dispense from a spray bottle. Spray fabric paint can be used to create a variety of effects on a T-shirt. For instance, it can be used to create tie-dye T-shirts and it can also be used with fabric stencils.
Acrylic Paints
You can use acrylic paints on T-shirts. All you need to make regular acrylic paints suitable for T-shirt painting is a textile medium. Simply mix 1 tablespoon of textile medium for every tablespoon of acrylic paint before applying the paint to your T-shirt. The textile medium converts regular paint to fabric paint so it doesn't dry up and crack when applied.