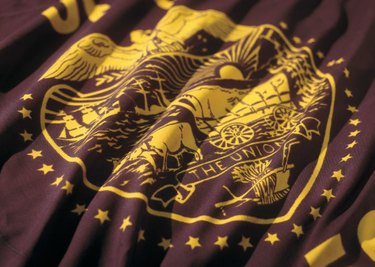 With a mild climate and fertile soil, Oregon produces delicious foods. Known for hazelnuts, pears, microbrews and wine, Oregon is a food and beverage lover's dream. Some well-known foods, including certain chocolates and cheeses, are made only in Oregon and should definitely make it into your shopping bag when visiting the state.
Cheese
Pasture-raised cows in Oregon's Tillamook County produce gallons upon gallons of milk, most of which becomes Tillamook Cheese. The Tillamook Cheese Factory is best known for its cheddar, but the company also produces sharp cheddar, jack, yogurt and ice cream. Another lesser-known cheese company is the Blue Heron Cheese Company, which is also located in Tillamook. This company is known for its quality brie.
Chocolate
No, cocoa doesn't grow in Oregon, but the Brigittine monks in Amity know how to turn the little bean into wonderful batches of fudge and truffles. Their confections have been praised by Bon Apetit magazine and featured on CNN. Another Oregon-based chocolate company, Moonstruck Chocolates, has been crafting gourmet chocolate bars and confections since 1993.
Berries
The mild climate of the Northwest is a berry-grower's haven. But Oregonians weren't happy with the standard blackberry or raspberry so, in 1956, along came the marionberry. This big berry can be eaten fresh, made into jam and wine, or made into candies and desserts. Although produced elsewhere, Oregon's southern coast is home to cranberries. In the town of Bandon, you can visit a store dedicated to tasty treats made from locally grown cranberries.
Grains
To complete a balanced Oregon meal, purchase some whole grains from Bob's Red Mill and make a healthy loaf of bread. Bob Moore (who you will often see at his store in Milwaukie) began offering customers healthier grains in 1978 and has expanded to a product line of more than 400 items. The grains are milled and packaged a few miles down the road from the store. His grains have won many awards from around the world for their high quality. The Milwaukie store also has a restaurant if you want to sample some grainy goodness while shopping.