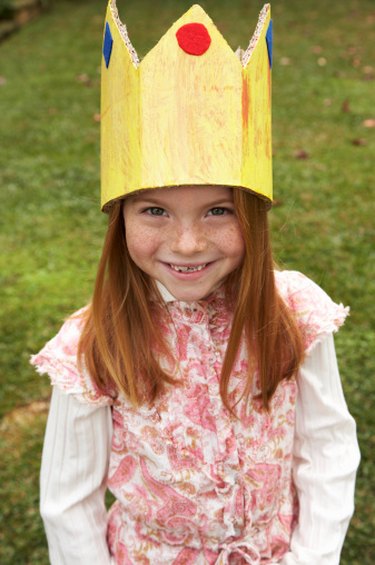 For 5-year-old girls, the party ideas are many. Consider the elements your little girl would most enjoy at her celebration. Dress-up party themes and parties that allow them to mimic adults or older girls are sure to be a hit with this age group. Once you select a theme, start shopping for the basic party elements such as invitations, decorations and party favors. Oftentimes these items can inspire ideas for party foods and games that reflect the theme.
Princess Party
Throw a royal party fit for a princess. Invitations can be purchased from a party supply store; there typically are several styles from which to choose in this theme. Ask guests to come dressed in their own princess gowns or costumes. As the party host you may want to supply the tiaras or have the girls decorate their own cardboard crowns as one of the party activities.
Decorate your party space with pink, purple or a combination of these two traditional princess colors. Use a crown-shaped cookie cutter to make royal finger sandwiches or order pizza and call it "Princess Pizza." Frost a birthday cake with pink frosting and sprinkle with sugar crystals to add "princess sparkle."
Party games can be given a royal twist. Play Pin the Crown on the Princess and Royal Ball Freeze Dance. Suggestions for game prizes or party favors include toy jewelry, sparkly nail polish, princess stickers, princess bath bubbles, candy ring pops, princess fruit snacks and pink bubbles.
Fairy Party
A fairy party promises an enchanting time. Invite guests to come dressed in fairy tutus and headbands. Use fairy coloring pages to make your invitations. Cut along the outline of a fairy image and glue the uncolored picture to the front of a blank postcard. Use a glow pen to write the party details on the other side. Include instructions for guests to color in their fairies and bring them to the party to receive a prize. When guests arrive with their fairies, hand out pixie sticks.
Ideas for fairy foods include butterfly shaped sandwiches and cookies and a bowl of "Fairy Fizz" (pink lemonade mixed with lemon and lime soda). Bake the birthday cake in a butterfly shaped cake mold and then decorate it as a fairy.
Give guests party favors such as fairy coloring books, glitter pens, sparkly barrettes and pixie sticks.
Plush Animal Tea Party
Little girls who love their stuffed animals will love this birthday party idea. Invite guests to bring along their favorite plush dolls for a birthday tea party. Dress a table in a fancy linen cloth. Set it with an assortment of fancy tea cups and cake plates. These can be pieces from an old collection or even yard sale finds. Five-year-olds don't require your fine china; simply being able to drink from a cup that isn't plastic qualifies as fancy to them.
Serve decaffeinated tea from a fancy tea pot. Use iced tea and a plastic carafe if you wish to let the girls pour their own servings. Make individual sized cakes for this party. Reserve one to set in the middle of the table with the birthday candle. A fun activity is to give each girl a cup of frosting, sprinkles and small candies with which to decorate her own cake.
Give each girl a strand of beads to wear at the party and take home as her favor.
Pajama Party
Most 5-year-old girls are too young for an actual overnight stay, so throw a slumber party that includes everything but the actual "slumber." Schedule the party for a time that is just a couple of hours shy of bedtime. The guests come to the party dressed in their pajamas to play games, watch movies and eat birthday cake and then go home to sleep in their own beds.
Ask the girls to bring their pillows; they will need them for the traditional pajama party pillow fight. They can also use their pillows to sprawl out on the floor and watch a movie or favorite television show. Enlist one of the moms to stay and help you coordinate additional party activities. Suggestions include music and dancing, fingernail painting, cupcake baking and bedtime stories. When the party is done, send each girl home to sleep with a beanie teddy bear party favor.