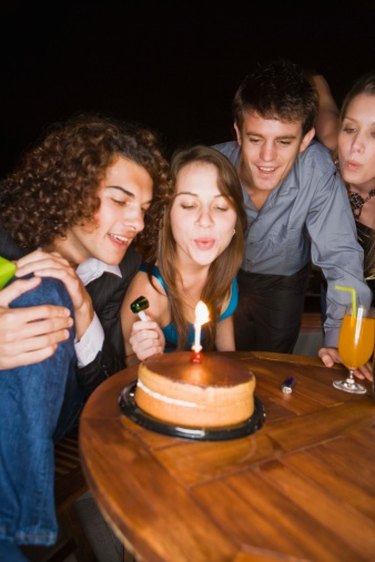 Teen birthday parties are different from those of younger children in that they should give the feeling of a grownup party while remaining age appropriate. Teens want birthday parties that are fun and exciting while not feeling too childish. Throughout Indianapolis, Indiana, there are special activities and venues that are age appropriate for a teenage birthday party such as private movie screenings, paintball parties, spa parties and sports parties.
Private Movie Parties
Both in theaters and at home, private movie screenings are a teenage birthday party option. Indianapolis movie theater chains such as Regal Theaters and Cinema Grill allow private parties to rent a theater and view a selected movie in private. Packages include concessions options and wait staff. Indianapolis-based companies such as Fun Flicks offer a party consisting of a private at-home movie screening. These companies deliver and set up movie projectors and an inflatable movie screen to allow movie viewing in your own backyard.
Paintball Parties
Teenagers enjoy friendly competition among their friends while having fun, making a paintball party a special teenage party idea. In Indianapolis, there are several business including Indy Acres Paintball, White River Paintball and Dark Armies Paintball that offer party packages with great options for parties. These party packages include the rental of all necessary paintball equipment, safety equipment and playing grounds. The parties consist of party guests' being placed onto teams and having a paintball battle against each other. Paintball parties are a fun option for a teenage birthday party.
Spa Parties
Spa parties are a great teenage party idea for female birthday parties. Teenagers are very image conscious and are old enough to appreciate the value of spa and beauty treatments. There are several Indianapolis area spas offering birthday party packages that are ideal for teenagers such as Health Yourself Massage and Indy Spa Parties. These spas pamper the birthday girl and party guests with selected treatments such as manicures, pedicures, massages and facials. Spa parties can be catered with food, cake and ice cream as well to add traditional birthday party staples to the party.
Athletic Activity Parties
Athletic activity parties are an energetic idea for a teenage birthday. These parties are based upon an athletic activity such as rock climbing, go-cart racing, miniature golf and ice skating. Party goers participate in physical activity for a specified amount of time,and then the party moves into a party room where party guests can celebrate with food, cake and ice cream and open presents. Athletic venues such as Climb Time Indy, Greatimes Family Funpark and Rink Time offer party packages and options suitable for a teenage birthday party.