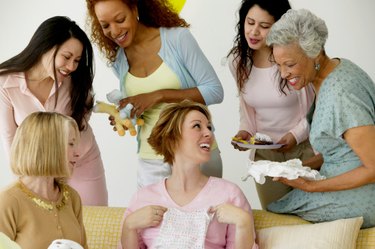 A ladies luncheon is a gathering of women brought together to celebrate someone or something special. The women typically know each other and come for a purpose, such as raising money for a charity or honoring a woman about to give birth. Traditionally, women dress up and are welcomed with a beautifully set table, carefully thought-out decorations and a well-planned menu.
To Honor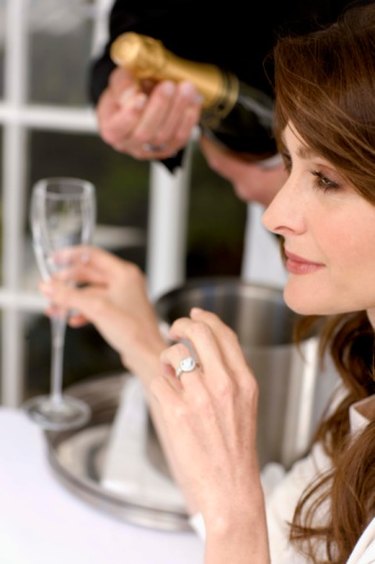 When women gather to honor someone or something happening, the luncheon has a specific theme of one person. The theme becomes all about the event happening to the person, and can include presents, speeches and games. For a woman pregnant with a boy, for example, blue-inspired clothing and items are given, and there might be sports-themed decorations. When women gather to honor a peer who is retiring, the theme encompasses sentiments of a job well done and well wishes for exciting future endeavors. Food, such as chicken and capers and fruit-inspired salads, in addition to celebratory drinks, such as champagne, is enjoyed and people give speeches or words of encouragement to the woman being honored.
Seasonal Luncheons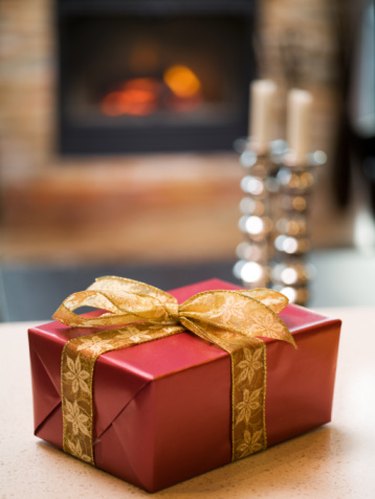 Women enjoy lunching as the seasons change. A ladies luncheon hosted in spring consists of pastel-colored china and flowers, light foods such as pasta primavera, fruit skewers and flavored waters and tea, for example. The atmosphere is bright, such as in a courtyard or someone's backyard, and often resembles a blossoming garden, which represents renewal and rejuvenation in the lives of the attending women. A fall or winter luncheon features darker colors, such as red, brown, orange and green, and is held inside a restaurant or home. Candles, crisp leaves used as place tags and wood-inspired centerpieces create a cozy atmosphere. In addition, a winter luncheon features heavier, warm foods such potato and cheese soup, steak on a bed of greens and chocolate cake.
Holiday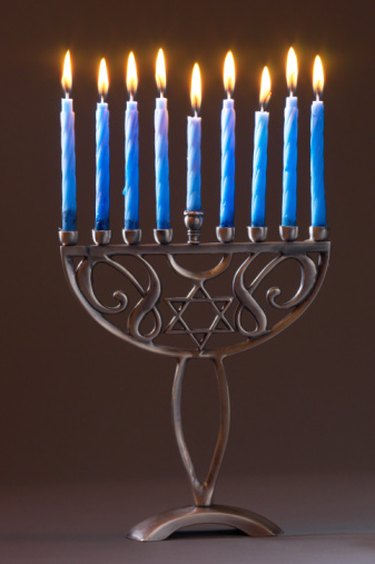 Women, especially mothers, enjoy gathering and talking around the holidays. During the holidays, schools often feature a holiday boutique for shopping in conjunction with a festive lunch. At a Jewish woman's luncheon, enjoy classic Gefilte fish, potato pancakes and cheese blintzes with fruit sauce, for example, while a Christmas luncheon could feature sliced ham and a walnut-and-cranberry salad. The tables are religious-inspired, with mini Christmas trees, candles, ornaments and fake snow, or large dreidel centerpieces and menorahs in blue, silver and white. A holiday-themed parting gift includes a mezuzah.
Fundraiser or Charity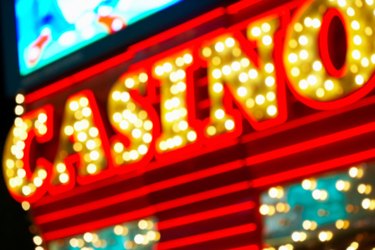 A popular ladies luncheon is the charity, fundraiser or auction lunch. Women gather with money in hand to help support a cause, foundation or particular business, such as a school or local charity. Exciting games and activities, such as bingo, raffles and a silent auction, are used to entice ladies to get involved and gather for not only lunch, but for a chance at winning something and helping someone else. Luncheon themes include casino fun with poker chips, martini glasses and large centerpiece dice, while auction baskets are put together with luxury items, such as restaurant and shopping gift certificates, and spa or relaxation items.