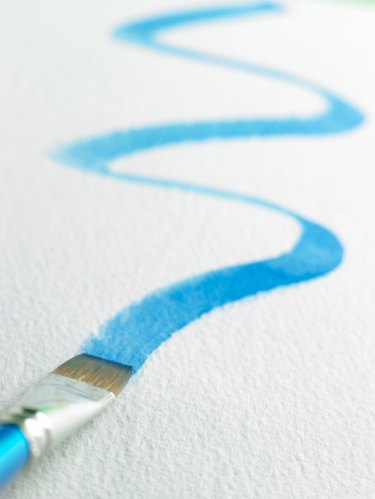 Georgia O'Keeffe once said, "I'll paint it big and they will be surprised into taking the time to look at it – I will make even busy New Yorkers take time to see what I see of flowers." O'Keeffe was inspired by her surroundings and used a variety of careful techniques to help paint the world as she saw it.
Color Techniques
Georgia O'Keeffe used color to convey her experience with an object. This use of color can especially be seen in her flower paintings. Her usage of abstract icons and symbols allowed her a color freedom not always found in other painting styles. Switching to watercolor paints in 1915 allowed her to explore more vibrant colors. She used subtle transitions in tone to create variations in color. Her color mixing also created transitions from light to shadow.
Shape Techniques
Her views on painting shapes were influenced by the cubism and realism movements of the early 1900s. This influence is seen in the geometrical elements found in some of her pieces. Georgia O'Keeffe's paintings also showcase natural, precise forms with strongly defined contours. She is also well-known for creating large paintings of her subjects, with extreme close-up views of the shapes involved.
Brush Techniques
With oil paint, her medium of choice, she applied it sparsely. O'Keeffe carried this restraint into watercolor painting as well, by painting directly on the canvas with no additional techniques to brush or shift the color. Each stroke was one single, precise gesture. She also created interesting effects and water patterns by mixing paints on thick "student" paper and even squeezing paint onto paper that was already wet. Her brushwork allowed her paintings to evolve organically.
Abstract Techniques
O'Keeffe is also renowned for her abstract designs and the precision she used to create them. She was precise in choosing the styles, subjects, materials and tools she used. Her work utilized stark lines and bold patterns to create abstract representations. The expansiveness of some of her works allowed for an abstract take on the details of her subjects. Common objects such as a single blossom or a cow's skull were made unfamiliar and exotic through this method.