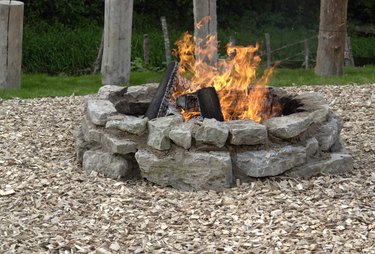 Fire pits made from metal, clay and brick often run on gas or propane. The interior of the fire pit holds various types of rocks to cover the inner workings of the gas line as well as for decorative purposes. Fire pits properly built from various types of stone provide a campfire style fire pit for backyard parties and cookouts. Do-it-yourselfers build permanent fire pits from brick and stone for safe grilling over a wood fire.
Fire Glass
Fire pit glass crystals are specially made for use in a gas fire pit as an alternative to lava rock. Tempered glass in a multitude of colors manufactured at over 1,200 degrees resists melting and discoloration commonly associated with gas fires. Glass crystals are tumbled and polished so no sharp edges exist to cut hands while handling the glass. Poor quality versions of fire glass contain laminate and plastic that may create poisonous fumes. Propane gas fire pits slightly discolor glass crystals over time by leaving behind a residue. Black glass is recommended for propane pits.
Filler Rock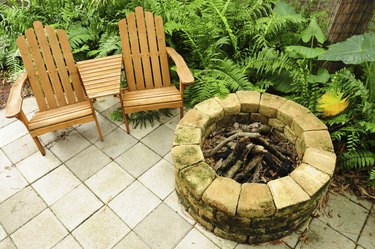 Deep fire pits need an inexpensive filler to form a base for more expensive decorative options. Filler material made from lava rock, silica sand or volcanic ash also retains heat well, making your decorative rock more efficient. Lava rock is dark in color and best used under dark top materials, such as black glass. Silica sand comes in a variety of colors to complement or contrast with top materials or used alone, without a top material.
Lava Rock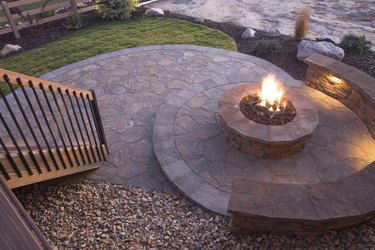 Lava rock comes in a variety of colors, such as red and shades of browns and grays. Large lava rocks easily hide a fire pit burner ring. Fill the pit with different sizes of lava rock starting with 1-inch at the bottom of the pit. Fill in spaces with 1/4-inch lava rock and top it off with your favorite decorative stone, rock or glass. Lava rocks make an appealing underlayment to wood logs and serve to keep heat in the pit longer than logs alone.
River Rock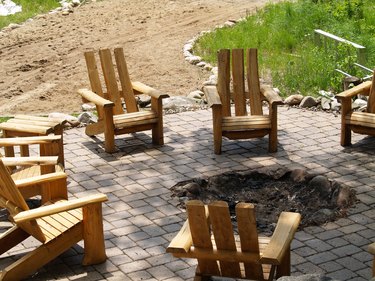 For an outdoor living experience on a balcony, try a fire pit made of river rock and mortar. River rock is what fire pits were made of years ago, and the lure of the past makes this choice popular today. River rock fire pits are elegant and look great anywhere by providing traditional and natural looks to gardens, and they blend in well with rock ponds and waterfalls.