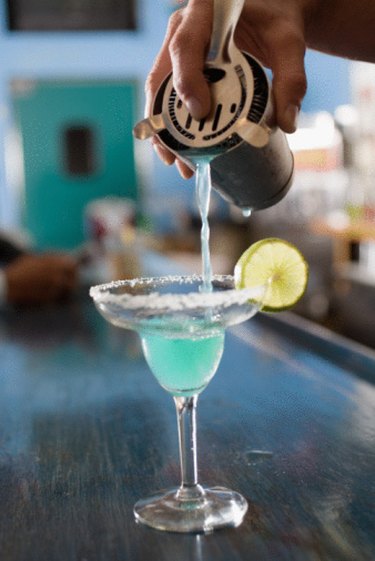 When you are invited to a party, you may be asked to bring drinks. Your host may indicate that he would like you to bring your own drinks by noting "BYOB" on the invitation, which means that you should bring your own bottle, or alcoholic beverage. The type of party you are attending often dictates the types of drinks you should bring.
Soft Drinks
If you are attending a party for a child or teenager, it is usually appropriate to bring soft drinks rather than alcoholic beverages. If you are asked to bring drinks for this type of party, bring enough soft drinks, lemonade, fruit punch or sweetened ice tea to share. You don't have to bring enough for the entire party, but it is appropriate to bring enough for you, any guests you bring with you and a few others. A couple of 2-liter bottles or a six-pack of soda is usually enough for a two-hour party.
Beer and Wine
If your invitation or host asks you to bring an alcoholic beverage, bring whatever you and your guest like to drink. Make sure you bring enough for both of you with some left over to share. One bottle of beer is one serving and a bottle of wine equals about four to five servings. Generally, people consume about two drinks the first hour of the party, and another drink for every hour thereafter. If the party is held during the day, beer and lighter, versatile wines, such as rieslings, sauvignon blancs and white zinfandels make good choices. If the party is in the evening, chardonnays, cabernet sauvignons and merlots are popular with most wine drinkers. If the drinks are to be served with dinner, ask the host what type of wine he prefers. Box wines are best saved for only very casual gatherings while higher quality wines may be preferred for more formal parties.
Alcoholic Beverages
If you are invited to a themed party, consider bringing mixed drinks. This includes tequila and margarita mix to a "Taste of Tijuana" party or gin, vodka and vermouth for martinis at a "New York, New York" soiree. Again, bring enough for you, your guest and a few others. Unless you are specifically asked to bring drinks for the whole party, other guests will also be bringing drinks. Choose high quality alcohol whenever you can afford it. Be sure to bring any garnishes you'll need, such as salt, limes, olives or maraschino cherries.
Extras
When bringing your own drinks, ask your host if he needs an extra bag of ice. If space is limited, consider bringing a small cooler to keep drinks chilled.