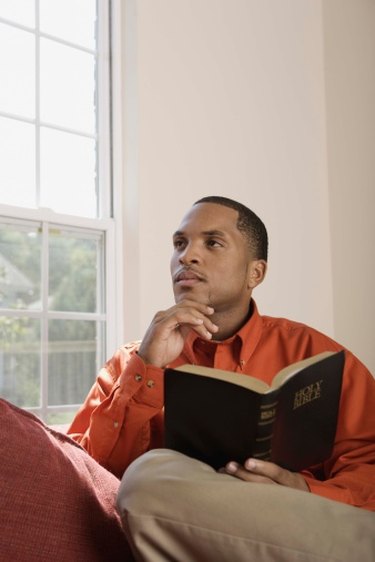 Is the pastor's birthday right around the corner? If you are planning a party at the church for family, friends and members of the congregation, choose a special cake to mark the event. A cake for a pastor should reflect his calling to the ministry as well as his own personal walk with the Lord.
Bible Cake
Ice a rectangular cake to look like the pages of an open Bible. Ice the cake in white and use gold-tinted icing to create the edges of the pages. Pipe a simple black line down the middle to represent the middle of the pages. Place a rolled fruit candy down the middle as the page marker: allow the bottom of the candy to dangle down the side of the cake and cut a few slits in it to create the look of a tassle. If you know your pastor's favorite Bible verse, write it on one page. On the other, write the words to wish him a happy birthday.
At the Cross
A cross is simple to create. Either buy a cross-shaped cake pan (easy to find at Easter) or cut a rectangular cake into a cross shape. Ice in brown or gold and add the text of your choice. To cut a cross out of a rectangle, remove the cake from the pan and place it on a serving dish. Remove a 2-inch deep by 3-inch wide square from the upper right and upper left corners and a 4-inch deep by 3-inch wide square from the lower right and lower left corners.
Ichthus Cake
The ichthus, a Christian symbol, is the outline of a fish. Although it might sound difficult to create a fish-shaped cake, the look is easier than you might think. First, bake a rectangular cake. Use icing to outline an oblong fish body with a triangle for the tail, with the pointed side of the triangle closest to the fish's body and the flat side facing outward. Cut along the edge of the icing to create the shape of a fish for the cake. Ice the entire cake in yellow or white. Next, create the outline by piping black icing around the outer edge of the cake. Leave enough room in the middle to add any words you'd like to include.
Cake Toppers on Favorite Color
A simple cake iced in your pastor's favorite color can become special when you add an interesting cake topper, such as a shepherd and his flock or praying hands made of sugar. Choose a meaningful cake topper for the occasion from online retailers or at a local cake supply store.