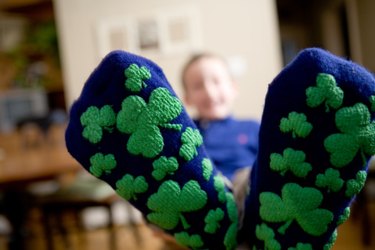 On a holiday that has become increasingly adult- and alcohol-oriented, teen activities for St. Patrick's Day can seem few and far between. However, teens don't need alcohol to have a fun-filled St. Patrick's Day celebration; they just need friends and imagination.
Parties
Teens can throw their own party at home on St. Patrick's Day. Host a cooking party and create homemade baked treats shaped like leprechauns and shamrocks. Dye beverages green. Or, hold an Ireland-themed party. Drink root beer from Guinness glasses, speak with Irish accents and watch movies with Irish actors. You could also go green for St. Patrick's Day -- instead of staying home to party, have a cookout in the local park and use only recyclable materials.
Special Events
Attend the local St. Patrick's Day parade or festival. If there is none, speak to your church or community leaders about holding one. Even on short notice, it's possible to hold a St. Patrick's Day carnival for kids, teens and families. Get your friends together and volunteer to man the booths or help with arts and crafts. You could also reinterpret the "green" of St. Patrick's Day and organize a city-wide cleanup and a day of "going green." Encourage residents to take water- and energy-saving measures and come out to help beautify their community.
Outings
Stay away from bars and trouble on St. Patrick's Day. Instead, head to the mall with your friends and try on tacky holiday jewelry and T-shirts. Or, dress in all green, gather as many friends as possible and head to the local park for an impromptu rugby tournament. You could also eat dinner together at a restaurant with an Irish name, such as O'Charley's or Bennigan's, or spend an afternoon at local dollar stores creating cheap St. Patrick's Day-themed gift baskets for each other.
Other Activities
Ask your parents to create an elaborate neighborhood-wide scavenger hunt for you and your friends. Tell them to include green, Irish or St. Patrick's Day in each clue. You could also volunteer at a local children's home and help the kids make St. Patrick's Day arts and crafts. Or, make your own crafts. Get a disposable camera, don green clothes and jewelry and take pictures of you and your friends. Develop the pictures and create a St. Patrick's day photo collage. Teen guys can go shirtless to a rugby game and paint green letters on their chests.