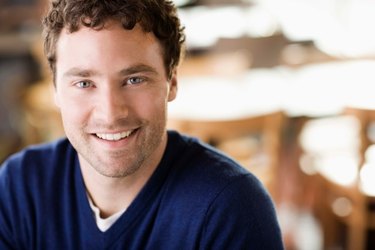 Your guy is turning another year older and you have no idea what to get him. Last year, you sent flowers to his office. The year before that you bought him a six pack of white T-shirts. This year, you vow to do something different. The problem is you feel he has everything. Give an original gift from the heart, and he will love it.
Parties
He may have had parties before but none like the one you're going to throw him. Call up a bunch of your friends and throw a big blowout bash. Give the party a theme, such as Cowboys and Cowgirls and have everyone show up in costumes. Kick the party up a notch. Surprise him by popping out of the cake and giving him the dance of a lifetime. For a more intimate affair, invite a few friends for a casual dinner at his favorite restaurant.
Sporting Events
Cater the day around a sporting event. For a guy that loves car racing, take him to a NASCAR event. If he's into football, throw on his favorite team's jersey and head out to the live game. Don't worry if you don't have tickets, tailgating can be just as fun. Gather a few friends and combine a golf outing with a cookout. Keep the entire golf theme by using personalized golf invitations and banners. Favors could include water bottles with "Nine Holes" printed on it and golf balls with his picture.
Spend a quiet evening at home, watching the sport of his choice. Grab a few snacks and some six packs. Enjoy the cold afternoon snuggled under a blanket, watching back-to-back football games on the big screen.
Romantic
Everyone can use a little romance. For a guy you are romantically involved with, splurge on a nighttime helicopter ride over the city or a daytime hot air balloon ride. Take a chartered boat ride down the lake and watch the sparkling city lights ashore. Go the less expensive route and purchase chocolate covered strawberries and wine. Include a full-body massage and spend an intimate evening in the bedroom.
Other Ideas
Your guy has a heart of gold and donates to charities on a regular basis. Instead of getting him a gift for his birthday, donate to his favorite charity in his name. For a wine drinker, give him a basket filled with his favorite wine. For a collector of items such as baseball cards or sporting paraphernalia, search online sites for that classic card he's been on the lookout for, or that one-of-a-kind team jersey.