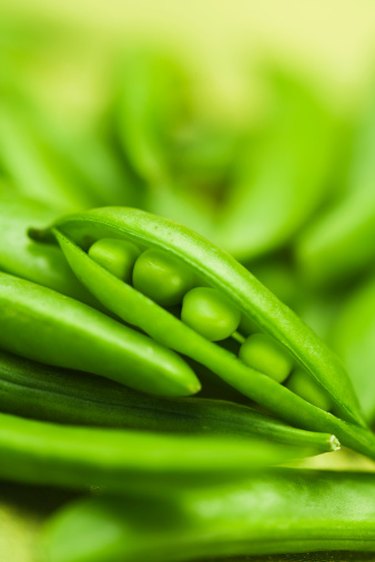 Pea green is a rather odd color. It is green but has a lot of yellow in it and looks very much the same as the vegetable, thus the name. When using pea green in your home decor or in your wardrobe, be aware that it can come across as drab or may not be flattering to your complexion.
Considerations
Examine the lighting in the room where you are using pea green. If it's a dark room, pea green can come across as muddy and murky. Brighten the lighting in the room, or opt for a color that lends itself better to low lighting.
Complementary Colors
If used with the right complementary colors, pea green can be quite effective. Combine pea green with celadon, pale blue, saffron, deep blue and rose, which is a look from the 18th century when Wedgewood pottery became common.
White and Other Flattering Colors
Use a shade of crisp white for the main surfaces, and then accent using pea green and pink salmon, which is a contemporary look.
Black
In your kitchen, install black and white check tiles on the backsplash and paint your cabinets pea green, which is a flattering combination. Combining yellowish-green or a pea green color with white and black is a striking choice that will work well in a kitchen.
Bluish-Greens
Pair pea green with turquoise and blues, or use the pea green on an accent wall, such as the stairwell wall, and paint the other walls in a lighter neutral color.
Emphasis
If you have an interesting ceiling with architectural details, paint the ceiling pea green, which will emphasize the ceiling. If you would like to show off your crown molding or window frames, use pea green to highlight them. The rest of the room should be a neutral shade that is lighter than the pea green.
Experiment
When you are unsure about pea green, paint one wall or a door or some other smaller space, and study the paint for a day or so. See what it looks like in the morning sun, afternoon sun, evening sun and at twilight. You may decide you love it or hate it. Pea green is a rather drab color. It is not bright like lime green or as dark as forest green. It is similar to olive drab green, which is the color of army uniforms. It doesn't have blue in it as do aqua and turquoise greens.
What Greens Represent
Green stands for harmony and balance and works particularly well in a bedroom, including pea green.