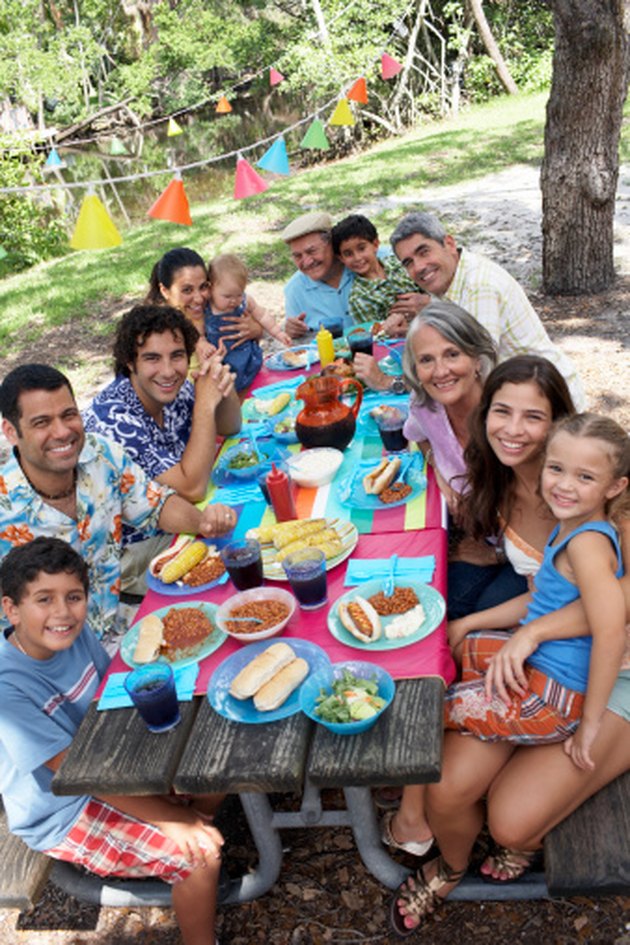 Family reunions are a time to catch up with relatives and reminisce about favorite memories, but most of all they are a time to just have fun. For your next family reunion plan a variety of games and activities that will appeal to all ages. By the end of the day, everyone will be counting down to the next family gathering.
Get Reacquainted
This trivia idea takes some coordination ahead of time, but is worth it as it is sure to be a hit. A few weeks before the celebration, ask family members to email odd stories, little known facts about them or new things that have occurred since the last reunion. Try to make the questions lighthearted or funny. The day of the gathering, set up a trivia game and award small prizes to the relatives who are able to answer the most questions correctly. For something less formal, gather around and take turns swapping stories to get caught up. You can also watch old family videos and reminisce about some favorite memories.
Outdoor Activities
Set up a tug-of-war area if the reunion is outdoors. Pit cousins against cousins, siblings against siblings or just mix up the teams. This classic game is sure to make everyone laugh and bring out their competitive side. Other ideas are potato sack races, volleyball, bocce and badminton. If your family loves to eat, why not set up a pie eating contest? The rules are simple. Don't use your hands, make a complete mess and have a blast. Try to gather an idea of how many people you think will participate beforehand and if it will help, ask each family to bring a pie with them. Give every participant an over-sized plastic bib and be sure to capture the hilarity on video or film.
For the Little Ones
If there will be lots of small children at the reunion, set up board games, coloring books and sidewalk chalk for them to entertain themselves with. If you have the time, a scavenger hunt is a way to get all the kids involved and keep them busy. Another idea is to set up a craft table where they can paint or decorate small photo frames that they can take home with them.
Group Photo Activities
If you have the time, set up old photo albums for the family to peruse during the day. You can also ask relatives to bring their own albums to share. Don't forget to take a photo of everyone together. You might want to do this before the celebration is in full swing and everyone is disheveled or dirty. Be sure to take pictures of individual families as well. Post the pictures online with funny captions or print them and send them to everyone during the holidays.